Nokia Wednesday unveiled an entry-level Windows Phone 8 Lumia smartphone, and a variant of its top of the line Lumia 920, for the mainland China market.
User ranked top LTE smartphones
The new Lumia 620 will have an unsubsidized price of about $250, intended as Nokia's lowest priced smartphone with the new Windows Phone 8 operating system. The phone has a smaller screen, at 3.8-inches diagonal, somewhat lower resolution, overall smaller, thinner and lighter than the mid-range Lumia 820 and high-end 920.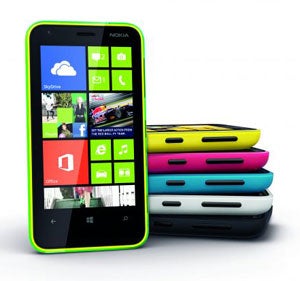 New 620 smartphone initially available in China; unclear if it will come to United States
But, like them, the 620 has an NFC chip and the same Nokia branded services the phone maker has been aggressively promoting. These include a battery of location and navigation services based on Nokia's mapping platform, such as Nokia City Lens, which overlays local surroundings seen through the phone's camera viewfinder with an array of information about them.
Users can sheath their color selection for the polycarbonate body with a second color, in a choice of seven translucent or transparent shells, to create "color blends and depth effects," according to Nokia.
The specifications reflect the phone's positioning as an entry-point for the Lumia family:
Screen: 3.8-inch TFT WVGA, with 800 x 480 pixels, and Nokia's ClearBlack technology
CPU: dual-core Qualcomm Snapdragon S4, at 1Ghz
Cameras: 5 MP Autofocus, LED flash, main camera; and VGA front-facing camera
Storage: 512MB RAM, 8GB storage, with Micro SD slot for cards up to 64GB; 7GB free Microsoft SkyDrive storage
The phone will go on sale in January 2013 first in Asia, then Europe and the Middle East. Nokia didn't say when or whether the 620 will appear in the U.S. Currently, T-Mobile USA offers the Lumia 810 for $100, Verizon Wireless the 822 for one cent, and AT&T has the 820 for $50. All three run Windows Phone 8, and feature 4.3-inch screens and 8 MP cameras. Currently AT&T alone offers the high-end Lumia 920, with LTE, a 4.5-inch screen, and an 8.7 MP camera with Nokia PureView technology.
The company also announced the Lumia 920T, which is a version of the 920 that incorporates a radio for China Mobile's TD-SCDMA network. Nokia for years dominated the China market, but its market share has been gutted by Apple's iPhone and Google Android phones at various prices. China Mobile by itself offers a huge customer base of over 700 million subscribers. The 920T will have an unsubsidized price of just under $740.
John Cox covers wireless networking and mobile computing for Network World.
Twitter: http://twitter.com/johnwcoxnww
Email: john_cox@nww.com