The key to Research in Motion's success in the business markets lies not with IT groups or even business users, but with consumers, according to analysts looking ahead to Wednesday's announcement of RIM's new BlackBerry 10 smartphones.
The phones, their new OS with its radically redesigned gesture user interface, and new back-end services are RIM's high-stakes bet to reclaim its place as a premier mobile device company. But RIM is also creating services and back-end infrastructures to amplify and extend what a device can do.
Opinion is divided on whether consumers will forgo buying iPhones and Android handsets and embrace the re-invented BlackBerry experience.
[ WATCH IT LIVE: RIM BlackBerry 10 blockbuster: Live stream Wednesday 10 a.m. EST/7 a.m. PST
MORE: RIM's demo of new BlackBerry impresses programmers, users ]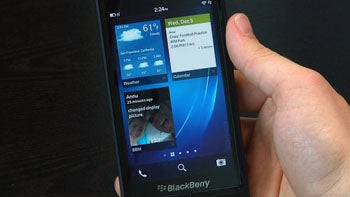 Credit: Martyn Williams, IDG News Service
The BlackBerry 10 operating system is shown running on a development handset.
"Don't forget that in many parts of the world [outside the U.S.], BlackBerry actually is the choice of consumers," says Jack Gold, principle of J. Gold Associates, an independent research and strategy consultancy. "So it's not impossible for them to gain lots of consumer traction."
"We don't expect it to win significant numbers of converts from other platforms," writes Jan Dawson, chief telecoms analyst with Ovum, a U.K.-based analysis and consulting company. "There is little in the new platform that suggests it will have the compelling apps, content stores, or the broader ecosystem that consumers have come to expect in a competitive smartphone platform."
In fact, prior to the release of the iPhone in mid-2007, RIM was going from strength to strength as it aggressively and successively sought buyers among the ranks of consumers, new territory for a company that relied on corporate buying plans for its popular email devices and mobile phones. RIM at its peak was selling 12 million-15 million devices per quarter.
RIM's consumer challenge
A lot has changed in the smartphone market with the advent of iPhone and the spread of rivals based on Google Android. That growth caught traditional mobile phone makers, such as RIM, Nokia and Motorola by surprise. Google bought Motorola; Nokia abandoned its own operating system in favor of Windows Phone, and after five brutal quarters is only now reporting some modestly encouraging gains. RIM, over a year later, is starting an equally radical reformation.
"Consumers come in [to a retail store] knowing a lot about Android and iOS devices: their friends have them, or they've owned one themselves in the past," says Ken Dulaney, vice president of mobile computing at Gartner, technology research and consulting company. "They'll get a five minute demo of the new BlackBerry 10. And that little demo has to impress them."
Dulaney isn't sure that it will. For the typical consumers, the opening screens of iOS and Android show a set of apps, and some amount of status information (alerts, missed calls, new messages, Facebook posts and so on). In other words, they see right away what they can do. "The [minimalist start screen of] BlackBerry 10 UI is very gesture oriented," Dulaney says. "Users may not know what gestures to use, or how to use them consistently. And consistency on phones is very important."
A new study of consumer buying intentions, commissioned by BiTE interactive, a mobile app development shop, found that despite relatively high interest in specific BB10 features (when these were described), only 13% of respondents said they will consider buying a BB10 phone. And just 1% plan to get one immediately. The study, by YouGov, polled a representative sample of 1,127 American adults online.
Courting developers, IT, consumers
The encounter between individual and a sales rep at a carrier store or RadioShack or Best Buy is evidence of the "huge change" in the enterprise market -- "the BYOD [bring your own device] trend, and with that the influx of a bunch of new devices and platforms," says Christian Kane, analyst for enterprise mobility, Forrester Research, a Cambridge, Mass., research and consulting firm.
"On the plus side, RIM has a new, fresh-looking UI and a powerful OS," says Carolina Milanesi, research vice president for consumer technologies and markets at Gartner. "On the down side, they are building a brand new app ecosystem [newly renamed BlackBerry World], which means they will not have the same addressable market as [for example] Android. Possibly the biggest hurdle is [new] branding, and how they need to regain their status as a leader brand."
For many software developers, ardently courted by RIM for over a year, the upside and downside spell "opportunity." One of them is a young, independent developer named Daniel Bigham. Nearly a year after seeing BB10 demonstrated at RIM's annual user conference he remains exclusively committed to it, having already ported 10 of his apps.
"There's not as much competition from other developers, and it's a very open platform where you can choose what tools you want to use, leverage existing C/C++ code or open source code," he says. "It's a very solid OS. It has a 'Retina-class display' [referring to Apple's high pixel density Retina Display technology], 60 frames-per-second video, a built-in animation framework, and declarative UI with real-time preview."
Pent-up enterprise demand
Most of the people interviewed for this story expect to see a surge of BlackBerry 10 sales in part because of pent-up demand among enterprise customers who, anticipating the new mobile OS and associated server applications, have postponed upgrading their legacy infrastructure based on the BlackBerry Enterprise Server (BES), and the older BlackBerry mobile OS.
"We have enterprise customers ready to go [with the new BES and BlackBerry 10]," says Frank Kuschmierz, CEO for Xenium IT, an IT services firm based in Elmira, Ontario, not too far from RIM's Waterloo headquarters. The company does "lots of BES installs and upgrades" with a range of emergency services, police, and other public safety clients.
He thinks that at least some enterprises who bought into BYOD are having second thoughts. That's because iOS and Android devices currently can't offer the seamless integration, the security, and the fine-grained manageability they were used to with BlackBerry. One Xenium client, the CEO of a $220 million company, had bought an iPhone. "He was ready to throw it against a wall," recalls Kuschmierz. "Emails were delayed and a host of other things that he never experienced with BlackBerry. That makes a huge difference."
The just-released BlackBerry Enterprise Service 10 offers a single console, though two underlying separate applications, to manage iOS and Android devices, new BlackBerry 10 devices, including in future the PlayBook tablet, and legacy BlackBerries. BES 10 is a work in progress but RIM is promising ever more fine-grained control over BB10 devices, comparable to that of older BlackBerry devices.
It's less adept at handling iOS and Android devices, because RIM doesn't and can't control those operating systems. At the same time, says Gartner's Dulaney, RIM hasn't yet pulled out all the stops to manage non-BlackBerries as effectively as its own.
For BlackBerry 10 devices, RIM is offering BlackBerry Balance, which is software that can isolate corporate and personal data and apps from each other, letting users shift easily between those two domains. "Balance allows companies to add a personal and business 'persona' to each phone without having to use a third-party add-on," says Jack Gold. "Just set up the required policies and you're done. It will be a long time before iOS can add this and Android only gets it through third parties."
RIM as a mobile consumer platform
RIM is also expanding its appeal to the consumer market in less obvious but even more important ways. Visa recently certified RIM's cloud service for securely provisioning mobile payment credentials on devices equipped with near field communications (NFC) radios. It creates a gateway that can be used by network operators, issuing banks and payment card groups, all on behalf of enabling simple, secure mobile payments.
"The existing BlackBerry base is one of the largest groups of phones under a single brand with NFC already built in," says Andy Castonguay, Principal Analyst at Informa Telecoms and Media, a research and analysis firm. "That helps to bolster their importance on these [carrier] networks."
"It's very much an operator play designed to exploit the broader growth in mobile commerce," he says. "And it reflects a change in RIM's culture: to expand the role of BlackBerry as a brand beyond just the device. They're extending the RIM platform beyond the device operating system.
BB10 is based on the well-established QNX Software Neutrino real time operating system, which RIM acquired in 2010. The QNX Car platform is widely deployed in automotive infotainment systems. RIM CEO Thorsten Heins has made it clear that he sees QNX as the basis for RIM becoming a new kind of mobility company, going far beyond handsets.
"The whole mobile market is in its infant stage," says Xenium's Kuschmierz, an admitted BlackBerry enthusiast who plans to be among the first to buy a new, all-touch BB10 smartphone as soon as he can. "Until now, people have been focused on accessing their Facebook accounts. But the next few years, we're going way beyond that. Now my devices tie into my car. My car 'recognizes' me. My device becomes my key. I'm not sure anyone else can compete with RIM on that. I can see five years from now, Apple being in the place that RIM is now."
Yet the first step on such a dramatic shift in fortunes starts after Wednesday, when consumers finally will be able to vote with their dollars.
John Cox covers wireless networking and mobile computing for Network World. : @johnwcoxnww john_cox@nww.com
Email: