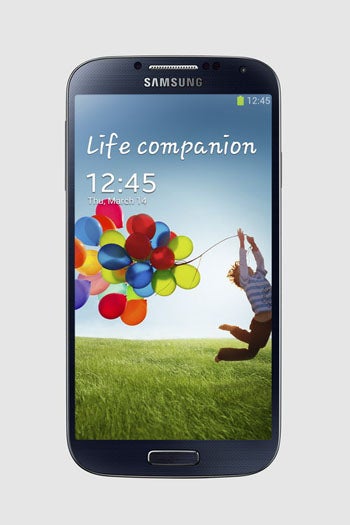 Samsung Galaxy S 4
Samsung is planning to release more than 10 accessories for its Galaxy S4 Android phone, including a waterproof S Band fitness band and a wireless charging pad and cover.
The Galaxy S4 was officially unveiled this morning at an event in New York City. Samsung spent most of the presentation demonstrating the phone's numerous software features but didn't go into too much detail about accessories, apart from a few standard looking cases.
[ IPHONEYS: The iPhone 6 and iPhone 5S edition ]
The Galaxy S4 global microsite reveals more details about optional accessories that Samsung will bring to market. The site details a total of 11 accessories, but no pricing or availability details have been revealed.
It's not yet known whether all of these accessories will be available in Australia. We've reached out to Samsung for comment, and it has responded with a rather generic official statement.
Among the more interesting Galaxy S4 accessories listed on Samsung's site are as follows:
S Band
A fitness band that works in tandem with the 'S Health' app on the Galaxy S4. The accessory syncs via Bluetooth to the Galaxy S4 when you're not carrying your phone with you, such as when you're playing sport.
The S Band records steps, calories burned and distance and also measures sleep efficiency. Samsung says it's waterproof up to a depth of 10 metres.
S View Cover
A cover for the Galaxy S4 that has a rectangular window at the top. It effectively allows users to quickly glance at notifications like the time, battery level and caller ID information without having to flip open the cover.
The S View Cover also unlocks and locks the phone when its opened and closed.
Game Pad
The Game Pad is a Bluetooth controller for the Galaxy S4. It has a number of buttons (including Y, X, B and A buttons that look rather similar to Microsoft's XBox controller layout), dual analog sticks, a traditional D-pad and shoulder buttons on the back.
Samsung says the Game Pad fits any smartphone with a screen size between 4in and 6.3in. It also has NFC connectivity for quick Bluetooth pairing.
Wireless Charging Pad and Cover
The wireless charging pad and cover is an optional accessory for the Galaxy S4 that requires a new back cover, as well as a dedicated wireless charger.
There's no word on which wireless technology it uses but we expect it to be the Qi standard. This is the same wireless charging standard used in Google's Nexus 4 and the Nokia Lumia 920.
Heart Rate Monitor (HRM)
A fitness accessory that works in tandem with the 'S Health' app. The accessory syncs via Bluetooth to the Galaxy S4.
Body Scale
A Samsung-branded body scale that measures weight and sends it to the Galaxy S4 by Bluetooth. It will work with the S Health app and will support up to seven different users.
Hands-on with the Galaxy S 4
This story, "Samsung releasing more than 10 Galaxy S4 accessories" was originally published by PC World Australia.