Let's face it - this holiday season is going to be really good for the video gamer on your holiday list. Not only are there two new gaming consoles coming out (the Xbox One and Sony Playstation 4), but there are a bunch of games that will keep you entertained for months on end. Plus the accessories to enhance those games and experiences continue to be top-notch.
[GIFT GUIDE: See all the products reviewed for Network World's gift guide]
[ALSO: Wacky and unique gifts for the holiday]
Editor's NOTE: Writeups of the PS4 and Xbox One units will come later, after we've had some time to break in the systems.
Product: Grand Theft Auto VCompany: Rockstar Games
Price: $60
Buy this for: Any videogamer on your list who loves open-world gameplay, outstanding graphics, an awesome soundtrack, parody of current events and chaotic carnage.
Most gamers who have played a Grand Theft Auto game before have already likely either finished this chapter, or are still playing through, so this writeup isn't really for them. Instead, we're recommending this game for people who may still be on the fence about it, or have yet to hear about the game. It's one of those video games that will likely rack up many "Game of the Year" awards, and they will be well earned.
Like many other open-world games, Grand Theft Auto V gives the gamer a lot of different things to do. Sure, you can follow along with the story-based missions - there are plenty of those, considering you have the choice of playing three different main characters (Franklin, Michael or Trevor). But you can also choose from dozens of side-missions - ones that don't even involve the game's normal "shoot-and-drive-and-escape-from-the-police" modes. Side diversions include playing tennis, golf, darts, skydiving, flying a blimp around, or running a triathlon. Or you can just drive around the city of Los Santos (a very good representation of the scenery and landscapes of Los Angeles), soaking in the incredible graphics and listening to the awesome soundtrack on a number of different radio stations. The beauty of a GTA game is not just in the main missions, but how it entertains you while doing things in between missions. I had just as much fun exploring the vast map as I did during the main heist missions.
The game earns its Mature rating, not just for the themes and violence in the game, but for the language and songs used on some of the radio stations. The hardest part for me is finding time to play the game, as I can't boot it up when the kids are around.
Like Skyrim from a few years ago, this is a game you'll keep on your game shelf for a long time, popping it in when other games come and go. Rockstar has done another fantastic job with this series, and it's well worth it if you haven't already purchased a copy.
Cool Yule Elf / Reviewer: Keith Shaw
------
Product: Ear Force Seven headphones - Thor: The Dark World Limited Edition headphones
Company: Turtle Beach
Price: $200
Buy this for: The gamer on your list who loves Marvel's movies and wants to use them for purposes beyond their video gaming life as well.
Turtle Beach has long been in the gaming headset market, producing great quality sound for video gamers as well as stylish and comfortable headsets for long bouts of gameplay. This limited edition model ties into the recent "Thor: The Dark World" movie, featuring earplates with an illustration of everyone's favorite god of thunder. In fact, the earplates are removable, and Turtle Beach says that other Marvel-branded earplates will come in the future. So when the next movie comes out, expect additional earplates that can make the headset constantly "new" for you.
The headset will work with any game console, including the Xbox 360, Playstation 3, PCs and Macintosh systems (compatibility with the new Xbox One and PS4 may require software updates). A ton of different adapters and cables are included that provide this support, which can really cable-up your gaming system - for example, in order to connect to my HDMI-connected Xbox 360, I needed to connect the unit to the USB port on my gaming console, connect another cable to the game controller to use the microphone, and then purchase an additional audio adapter to get sound through the earphones. The on-ear headphones include noise-isolation features and memory foam cushions, which make it comfortable, but not as comfortable as an over-the-ear set (eventually my ears started to throb). A line-in amp also gives you audio controls such as adjustable bass and treble boost, as well as volume.
The big variety of game console support makes this a good headset for people with multiple systems, as well as if you want to use this to listen to music on your iPod, phone or tablet as well as a PC. If you're a big fan of the Marvel universe, the removable earplates make for a nice add-on touch to this package.
Cool Yule Elf / Reviewer: Keith Shaw
-----
Product: Phantom 2 Vision QuadcopterCompany: DJI
Price: $1,220 (Amazon)
Buy this for: The really enthusiastic remote-control helicopter enthusiast.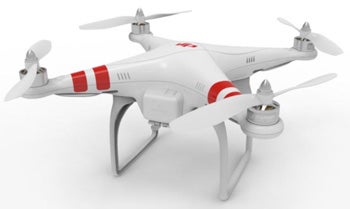 Remote-control helicopters have been all the rage for a number of years now; I own several myself, all priced below $100. All of mine are in the usual tail-rotor format, and most are very challenging to fly. But are you ready to kick it up a notch (or two)? If so, then you'll want to take a look at the DJI Phantom 2 Vision (P2V). DJI builds a number of high-quality, semi-pro quad- and hex-rotor helicopters, and these are definitely a step up from what you'll find at the mall. The Phantom 2 Vision is the top of their line, and a superb toy. But it's way more than that -- this is also a tool suitable for a wide variety of commercial activities.
First of all, the camera is definitely high-end. It's 14 megapixel for stills, and can record video in either 1080p/30 or 1080i/60, with recording to an on-board microSD card. The lens is f/2.8, 140-degree wide-angle, and can tilt under remote control. Speaking of that, the remote is in the classic dedicated two-joystick format - many products in the class use an iPhone or Android phone for control, which I've always found imprecise and tricky, to say the least, to master. The Phantom 2 Vision also uses an iPhone, but as a real-time video monitor -- it connects to the camera, which simulates a Wi-Fi access point for this purpose, and thus with an effective range of no more than 300 meters (spec provided by the company). I'd suggest a bit less than that just to be safe. Real-time flight parameters, including range, altitude, direction, and speed are reported (and it has GPS), so there's little excuse beyond "I was having too much fun" for serious errors. On the other hand, flight time is rated at 25 minutes on a single charge, so it's best to err on the side of caution there as well. Spare batteries are available, of course.
The bad news: the supplied documentation is minimal and confusing. Setup involves screwing (with tiny screws) the range extender and the clip to hold the handset to the remote. The result is kludgey-looking, which might add to the charm, and, of course, this setup is only required once. Network World readers, though, should have no problem figuring all of this out, but be sure to check the company's website for, again, the minimal documentation that isn't in the box. Some elements, like powering on and a few switches, are counterintuitive, so plan on an hour to do everything required for setup and to make some initial small experiments in how the copter handles. The controls, by the way, are labeled, but with stickers that get in the way. Someone is marketing needs to get involved here -- products loaded with minor irritations often make poor gifts, to say the least.
The P2V looks cool -- but how does it fly? Well, as Mom reminded me, this is an outdoor toy. You will do serious damage in a confined space, so don't even think about it. Outdoors, though, assuming appropriate caution (the optional guards for the blades are not included, so be very careful), minimal wind, and a few minutes getting to know the feel of the controls (just like any aircraft), the P2V is surprisingly easy to fly -- and a lot of fun. There's a lot of data to watch on the iPhone, but you need to keep your eyes on the machine itself, lest a tree claims your craft. All in all, some serious detail engineering and documentation are required here to create a really satisfactory user experience, but this is the best quadcopter -- indeed, helicopter of any form -- that I've tried so far. And a less expensive model with a mount for GoPro and other cameras is available; check DJI's website for more products and details.
Cool Yule Elf / Reviewer: C.J. Mathias
-----
Product: Roccat ApuriCompany: Roccat
Price: $40 (Amazon, Best Buy)
Buy this for: The person on your list who loves USB hubs and cable management!
The Roccat Apuri is an active four-port hub with mouse cable management built in. That's the practical and boring part.
The great thing about it is that it does this while looking cool. The shape and the Cobalt Blue lights make it look like a digital scorpion on your desk holding your mouse cable. The tripod shape also raises the USB ports up off the desk, making it easier to plug in USB devices.
The final feature is the mouse bungie. It provides the cable management for your mouse while giving you some additional range of motion. The arm bends when you need a little more slack and takes it back up when you push your mouse back. This is aimed at gamers who typically use their mice for precise movements, and avoiding slack or tightness can be the difference between in-game life or death.
I've been using it for a few weeks and found it quite useful since my desktop is a good distance from my monitor and keyboard. I have my webcam, mouse and keyboard plugged into it and had no issues with setup.
Cool Yule Elf / Reviewer: Tom Lupien
----
Product: Razer Blade gaming notebook
Company: Razer
Price: $2,000 (as tested)
Buy this for: The PC gamer on your list who wants a thin-and-light notebook that doesn't sacrifice any power compared with larger gaming notebooks or desktop systems.
Got a gamer on your list that loves the latest hardware but doesn't want a gigantic system that will never be as portable as they'd like? Check out "the world's thinnest gaming laptop", the Razer Edge from Razer. The notebook was built with gamers in mind, especially gamers that want to leave their homes and take with them when they're traveling.
The system we tested included an Intel Core i7-4702HQ Quad-core processor with Hyper Threading (2.26 GHz / 3.2GHz Turbo), 8GB of DDR3L memory, a 14-inch display (1,600 by 900 resolution with LED backlight), a choice of 128GB, 256GB or 512GB solid-state hard drive, built-in stereo speakers and a backlit, anti-ghosting keyboard. The unit had three USB 3.0 ports for attaching high-speed peripherals and an HDMI output for displaying games on a larger display. The HDMI port also could support Dolby Home Theater 7.1 for connecting to additional speakers.
At $2,000, this can be out of the price range for many gamers, but the powerful specs and extreme portability make this interesting as a game-on-the-road notebook. If you travel a lot and don't like leaving the gaming rig at home, this notebook could be in your future.
Cool Yule Elf / Reviewer: Keith Shaw
----
Product: Disney InfinityCompany: Disney Interactive
Price: $75 for starter set; characters cost about $13 each
Buy this for: Kids who love Disney characters and video games and want to create their own adventures.
The Skylanders series of video games have been around for about two years now, and the great success of the concept of merging physical action figures with video gameplay (Skylanders is now on its third game, "Skylanders Swap Force") has led others to this concept. Disney, with its vast library of characters, came roaring out of the gates over the summer with its Disney Infinity game, and continues to add more characters to its lineup.
The starter set includes three action figures (Sully from Monsters University; Jack Sparrow from the Pirates of the Caribbean series and Mr. Incredible from the Pixar movie "The Incredibles"), as well as a plug-in base. When you place a character on the base, the video-game equivalent of that character shows up in the game.
The game itself has two major components. You can play in several different "game worlds", in which the game plays a lot like a regular video game. Characters in that game world can complete tasks, level up and find additional bonus items that can be used later in the game. The starter kit comes with three such worlds, based on those characters. In addition, Disney has come out with three other game worlds, based on "Toy Story", "The Lone Ranger" and the world of "Cars." However, those game worlds are sold separately, usually for about $30 (you get the game world and two additional figures that work in those worlds).