One thing that has remained constant over the years is that we still like to travel. Whether it's by plane, train or automobile, we're always on the go. They say that the journey is more important than the destination, so we feel that if you have to make the journey, at least use some devices and gadgets that can make you more productive, comfortable or informed during the trip. Here are our favorite gift ideas for the road warrior on your list:
Watch a slideshow version of some of these products.
Products reviewed in this categoryGo LIVE 2535 M GPS unit, by TomTom
Omni-Heat Thermal Electric Jacket, by Columbia
Powerbag backpack, by Powerbag
Whirl Mini Notebook Laser Mouse and Mouse Pad Travel Pouch, by Smartfish
USB Dual Mobile Charging Hub, by Qmadix
TruConnect Mobile Broadband service, by TruConnect Mobile
Qumi Q2-W HD Pocket Projector, by Vivitek
SHOWWX+ Laser Pico Projector, by Microvision
Via 1535 GPS unit, by TomTom
Joos Orange portable solar charger, by Solar Components
Guide 10 Plus Mobile Kit (solar charging), by GoalZero
Steamer Beverage Heater, by GoalZero
Bugaglove Max Electric gloves, by Columbia
The reviews
Go LIVE 2535 M GPS unit, by TomTom
With GPS now appearing on practically every portable device (smartphones, tablets, etc.) or being  built directly into cars themselves, the makers of stand-alone GPS units need to make sure they have more and more features to make them appealing. In the case of TomTom, this means adding things like Internet access (to search for places or services depending on your position), live traffic updates, voice commands and Bluetooth speaker capabilities for your smartphone.
The Go Live 2535 M unit we tried from TomTom included all of these features – the most appealing is the HD Traffic Service, which delivers traffic updates to your device every two minutes, to help the user get around traffic jams and other commuter nightmare scenarios. The updates are delivered to the unit when the car charger cable is attached, and in my tests it did a really accurate job of telling me where the traffic jam was going to occur, and approximately how long it would take me to get through it. In cases where an alternate route would provide a faster trip, the system can re-route you automatically (in case you ever wondered if getting off the exit would be faster or not, now the TomTom can tell you). 
Your appreciation of this feature will depend on many things – how often do you travel in bad traffic situations, the availability of alternate routes that would help you, and the accuracy of the traffic information (sometimes, traffic data information is very slow and unreliable). In my case, there usually isn't a better alternate route on my commute, at least one that speeds up the trip, unless the traffic jam is a major one. But for longer trips or when going to places where you might not know the side roads, this is an interesting option.
The voice command feature was also fun to try – instead of awkwardly trying to type in an address or location where you'd like to navigate, you can use your voice – issuing commands like "take me home" or "take me to an address", and then dictating the address and city – again, in my tests, the unit was quite accurate as long as I didn't have a stereo blasting or kids blabbing in the back seat.
Other features of this unit include Google Local Search, a fuel price service, latest weather conditions, advanced lane guidance (always helpful on long trips, the system lets you know what lane is best so you don't have to cross four lanes to get to your exit) and street name pronunciations. Some of these services are wrapped up in the company's LIVE services, which costs $59.95 per year, and are only available in the U.S. TomTom also has a wide variety of voices that you can program into the device, including Simpsons characters (Homer and Mr. Burns, particularly are funny), as well as KITT from Knight Rider, and some Star Wars characters (Darth Vader, especially). Those cost about $13 extra and can be downloaded from TomTom's web site.
One final note – the unit's Click & Lock Mount was amazingly easy to connect – no longer do you have to worry about whether the mount is going to fall off during your trip – the magnetic mount makes it easy to put the unit on the mount, and the suction-cup part screws in and clicks to lock. Yay!
This is a premium GPS unit, so I'd recommend this for people who travel to new destinations on a daily basis, or need the benefits of the live traffic updates – for casual GPS users, I'd recommend other versions of TomTom's navigation devices.
Cool Yule rating: 5 stars
Price: $299.95
Reviewed by Keith Shaw
Omni-Heat Thermal Electric Jacket, by Columbia
When this jacket first came in to be reviewed, they had to let me do the review, because I was hugging it with a determination that wouldn't quit. I promised to write love sonnets about this jacket. Of course, since then, I have come to my senses and remembered that I'm not a poet. But I am always cold, and the thought of a heated jacket is simply a dream. I'm that girl in the office who wears a jacket inside (year round) because the office feels like a freezer (I don't complain, I know I'm the only cold person). So of course, I'm sure it seems outlandish that I also enjoy winter sports. I love to ski, but I'm always so cold that I tend to only ski in the spring, or I stick foot warmers to the inside of my shirt to warm up my back. That is, until I met this jacket! It HEATS itself! How awesome is that?
First off, even without its awesome powers of heating itself, this jacket is so soft and lux. The shell is treated to resist stains and light rain (an awesome bonus if you fall a few times while skiing down a mountain). Plus, the lining is made from Columbia's Omni-heat insulation and reflective technologies. Basically, the lining reflects your own body heat and keeps you extra cozy. Other features about the jacket include a waterproof zipper, five pockets (including an "interior security pocket,") and under arm venting to cool you down.
Now, to the good stuff! It heats itself! The jacket has two removable power packs that take approximately six hours to charge. There are three heat settings: Setting 1 for initial warm up and extreme cold, heats to 122°F, battery will last for three hours at this setting; Setting 2 for moderately cold weather, heats to 104°F, battery will last for four hours at this setting; Setting 3 for mildly cold weather, heats to 95°F, battery will last for six hours at this setting. Oh, and you can get a car charger for it.
My only caution is that you make sure the fit is correct. This jacket was large for me and I found it awkward because the batteries banged loose against my hips. The correct fit would be up against my lower ribs. Otherwise, the jacket is sweet, luxurious, and intelligent. If you love being outdoors in the winter but don't like being cold, check out this jacket. I may not be writing love sonnets for the jacket, but I'm certainly singing its praises. I love it.
Cool Yule rating: 5 stars
Price: $850
Reviewed by Jennifer Finn
Powerbag backpack, by Powerbag
This backpack includes a 6000mAh battery tucked inside a pocket that can recharge a whole variety of devices, including smartphones, MP3 players, GPS units, portable game systems, e-readers and even tablets. Inside some of the pockets are cable connectors for some of these devices (such as an Apple connector and mini/micro USB), and an additional USB port on the battery pack lets you connect one of your own USB cables for charging additional devices.
You can recharge the battery by connecting an included power cable to the bag itself to recharge, or you can remove the battery and charge it separately. The battery pack does provide some additional weight, but it's worth it to have the additional battery capability in case of emergencies. The backpack has enough space to hold a 15-inch notebook and has additional pockets for other things that you may want to carry along with you. Other styles are available, including a business class pack, and a deluxe version that includes space for 16-inch notebooks. There are also slings and roller-bag styles available at the company's web site.
If you are looking for a new backpack, it's worth the additional weight to have something that can recharge your phone, music player or other devices whenever you find yourself running low on juice.
Cool Yule rating: 5 stars
Price: $139.99
Reviewed by Keith Shaw
Cocoon 13-inch Sleeve2 for MacBook/MacBook Pro and iPad, by Cocoon
Cocoon's compact black computer carrying case features two zippered pouches, one for an Apple MacBook or MacBook Pro and the other for an iPad. But since I don't own a tablet, I settled for testing out the product with my 13-inch work-supplied Macbook Pro, which has already gotten scuffed up a bit jostling around in my old Dell laptop case.
The Cocoon case features a nice adjustable strap for carrying the bag over my shoulder (though I always get a little nervous with plastic rather than metal clasps). The company boasts of its "DEFLEXION" shock absorbing material, which translates into a thin but seemingly sturdy enough cushion around the main pockets. The case can also be strapped onto a rollaway luggage system, though I haven't tried this.
Tucked inside is a stiff little organizer covered with overlapping stretchy and rubberized straps for keeping wires, adapters and such under control. While I can't picture myself ever taking advantage of it, and I haven't yet, it's probably a good idea for the very organized. The product features a limited one-year warranty. I personally can't imagine paying $70 for a computer bag, but it's a solid product.
Cool Yule rating: 4 stars
Price: $70
Reviewed by Bob Brown
Whirl Mini Notebook Laser Mouse and Mouse Pad Travel Pouch, by Smartfish Technologies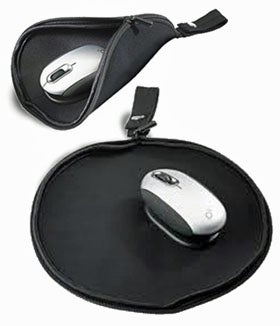 This mouse has been on my desktop and my "main mouse" ever since I opened it up and started using it, despite its odd design. The USB wireless mouse is designed for ergonomic comfort – instead of a solid base, the mouse is placed on top of a swivel-style base. This configuration lets users move their wrist to the left or right when resting or controlling the mouse. This creates a more comfortable feel, and can help reduce the chance of a repetitive stress injury.
Powered by two AAA batteries, the USB dongle/receiver can be stored inside the battery compartment, and there's an on/off switch that can conserve battery life (although I generally forget to turn off the mouse). You have a choice of six colors, and part of the money that Smartfish receives from its products go to the Hospital for Special Surgery Rehabilitation Education Fund in New York.
The Travel pouch is a nice accessory to add if you want to travel a lot with the mouse, the circular pouch can be used as a mouse pad, and then it zips up into a half circle-sized mouse holder (it looks like a calzone when zipped up). A strap on the outside has a snap on it, which lets you attach the enclosed pouch onto a backpack or other item if you desire, plus there's enough space if you want to store an additional item, like a cell phone or your keys.
Cool Yule rating: 5 stars
Price: $50 for the mouse, $15 for the travel pouch
Reviewed by Keith Shaw
USB Dual Mobile Charging Hub, by Qmadix
As we acquire more and more i-devices and the like, recharging them while in the car is getting to be more of a hassle. While our mini-van has two vehicle charging ports (we used to call them cigarette lighter adapters), the addition of keeping a GPS unit charged means we're usually left to one port for the smartphone. When my wife wants to charge her phone on a long trip, we usually have to swap adapters.
So I was thrilled to receive this unit from Qmadix, which uses one of the vehicle charging ports, yet provides two USB slots that can charge two devices. So I can have my iPhone recharging while she recharges her iPod nano or her own smartphone. Yay!
The package comes with one Apple connector cable with the USB port; if you want to have a second device charging, you need to bring your own (or get another cable). But still, it's nice to have one additional device that we can charge during long trips in the van.
Cool Yule rating: 5 stars
Price: $24.99
Reviewed by Keith Shaw
TruConnect Mobile Broadband service, by TruConnect Mobile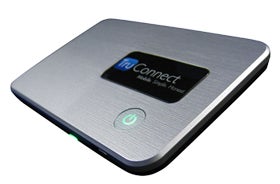 Mobile broadband service (3G or 4G) is great for those road warriors who travel at least once or more per month - paying $50 for almost anywhere, anytime access is definitely worth it for those always on-the-go members of your staff or family. But if you travel less, using these services seems like a waste of money. So the infrequent traveler ends up spending lots of money on things like hotel in-room broadband, which can cost up to $20 per night in cases.
TruConnect Mobile has an alternative option. For $4.99 per month, plus 3.9 cents a megabyte, you can get pay-as-you-go mobile broadband plan on a 3G network with the same kind of gear (an $80 Novatel Wireless Mi-Fi unit or $60 USB dongle) that the other services provide. TrueConnect works over the Sprint 3G network, so you should be able to find coverage in all of the major cities across the U.S.
The pay-as-you-go plan is a lot like similar plans for cell phones - you pre-pay the account with at least $10, and then the service deducts the monthly cost and any megabyte usage from there. You can monitor your usage on the TruConnect web site, and the service will email you when it "tops off" your plan with another $10.
The service truly enables infrequent travelers with the convenience of mobile broadband without the overhead of higher monthly costs for service they're not using. Users still need to track their usage so they don't go overboard on the data service (It's still $3.90 per gigabyte), but if you think that's going to happen you can then stop using this service and move to a plan that offers more data.
Cool Yule rating: 4 stars
Price: $4.99 per month plus 3.9 cents per megabyte; Mi-Fi card/USB dongle cost extra.
Reviewed by Keith Shaw
Qumi Q2-W HD Pocket Projector, by Vivitek
Small, very portable video projectors certainly have their applications, but I have to confess that while I've tried many of them, none have really been good enough that I'd want to use them all the time. There's a real challenge in building something that's small, light, and rugged, but with the resolution, brightness, and flexibility to either make a good impression or at least enjoy the show.
That's why I was very pleased to have the opportunity to try Vivitek's Qumi Q2, from a well-respected manufacturer of projectors. The Qumi is very small, although a little larger than pocket-sized, and has native 720p (1280x800) resolution. It's based on DLP technology, which I really like in projectors, and is rated at 300 lumens with a contrast ratio of 2500:1, which, while not exactly home-theater territory, is pretty good. The light source is an LED, which means long life and ruggedness. Connectivity options should fit almost every need; the unit has a mini-HDMI input, but also includes adapter cables for regular HDMI and VGA, and a composite video adapter is also available. The Q2 is not as flexible as many projectors with respect to the color adjustments found on more theater-centric projectors, but for on-the-go and casual use it should be just fine.
A little time with the on-screen configuration menus (especially for keystone) will be required to get an optimal image. Keeping in mind that the maximum distance between projector and screen is three meters, smaller images obviously work best. I tried the Qumi with a MacBook Air, using a Mini DisplayPort to HDMI adapter, and everything worked just fine. Brightness with a commercial screen is OK at shorter ranges, especially in a darker setting. There are a good number of other features, and the only real knock I came up with is that the internal cooling fan can be loud – but, overall, this is a clever and inexpensive little projector that should serve portable needs quite nicely.
Cool Yule rating: 4 stars
Price: $499 (Amazon)
Reviewed by C.J. Mathias
SHOWWX+ Laser Pico Projector, by Microvision
Highly portable micro-projectors have an obvious appeal, but most have been problematic (or even disappointing) to date due to very limited brightness, image size (related to brightness, of course, but also limited resolution), and the need for both a decent place to set the projector while having access to a suitable projection surface. But it's often best to ignore the specs here and just consider the application – if the audience (albeit a small audience) is happy, then that's all that matters.
MicroVision attracted my attention with its tiny (about the size of a typical handset!) rechargeable-battery-powered SHOWWX+ with the following specs: 50% brighter, and images up to 100 inches. That is entering home theater territory. The pocket-sized projector is optimized to work with Apple's portable devices, but it does include a composite video adapter and a mini-HDMI cable. A VGA adapter is sold separately.
The projector has a widescreen native resolution of 848 by 480 pixels. Autofocus is standard (in fact, there's no manual focus at all!), and setup was a breeze – you just charge the battery, connect to a video source and power it on. Configuration options are minimal, and you probably won't need to change them anyway. Techies will be impressed that the SHOWWX+ uses a proprietary PicoP MEMS laser module that is unique to this product – a laser is, in fact, the light source.
But the joy, unfortunately, ends there. Image brightness and quality are only OK. Very large images, even on a professional screen, are, as I expected, dim. I think this product might still be good for impromptu presentations assuming the availability of a suitable projection surface, but beware the VGA cable – it's pretty stiff, and it's consequently difficult in some cases to get the projector, which, again, is very tiny and light in weight, to lay flat. Still, it's amazing something like this can be built at all.
Bottom line: For gadget freaks and insuppressible presenters only.
Cool Yule rating: 3 stars
Price: $319 (direct)
Reviewed by C.J. Mathias
VIA 1535 GPS unit, by TomTom
In this unit, TomTom adds live traffic reports to its already popular route navigation system. Via calculates your fastest initial route, taking into account congestion. In addition, Via adjusts your route in real time in order to avoid accidents or traffic jams that pop up (Traffic information is provided by the Traffic Message Channel).
Over several weeks of testing, I found that the traffic information adds a valuable component to the TomTom's basic functionality. But, as with every device, there are caveats.
When I drive to work in the morning, I get to the end of my street and I can go left toward the main highway, which is about a 30-mile drive and takes about 30 to 40 minutes, or I can turn right and take the back roads, which is about a 16-mile drive that also takes about 30 to 40 minutes.
Some days, I just feel like getting on the Massachusetts Turnpike and doing the more boring, but easier drive. Some days, I feel like taking the scenic route, past horse stables in Medway and a strange little farm in Natick that has llamas.
The problem with TomTom is that it takes several minutes for the system to find the GPS signal and calibrate the route. There were days when I started TomTom up in my driveway, requested the fastest route to work, backed out of the driveway, drove to the end of the street, turned left toward the highway, drove for a mile or so and then had TomTom inform me that it would take me an hour to get to work the way I was headed because of a big traffic jam. So I had to take a U-Turn.
Other than the timing issue, the TomTom Via was extremely useful. The 5-inch display is clear and bright. Entering data is easy via the touch screen, plus there's a voice recognition system. The routes are displayed nicely and there's a handy bar that runs up the right side of the screen that tells you where the delays are, with flags of varying colors that tell you how long the delay is expected to be. You don't want to see a red flag displaying double digits.
With Via's real-time traffic information, you feel like you'll never blindly drive into a traffic jam, which is a great thing.
Cool Yule rating: 4 stars
Price: $168.99 (Amazon)
Reviewed by Neal Weinberg
Joos Orange portable solar charger, by Solar Components
The Joos portable solar charger definitely has some good things going for it. This particular model is the Orange. Just give it some sun and it will charge your smartphones, portable game systems, i-devices, and more relatively quickly. I tested it with both the iPhone and the iPad. I was impressed by how well they recharged when on direct solar charging. You can also charge your devices from the built-in storage battery after the sun goes down.
I found that charging from the battery was a bit slower, but that shouldn't deter you from getting this. It will work well enough if you need to charge your phone at night and don't have any other power source.
The unit comes with most of the adapters you will need for your devices. It also comes with a USB cord so you can charge the storage battery from a laptop. The USB connector also lets you monitor the Joos using software on your PC or Mac. Not a big bonus for me. If I'm going to use my laptop's power to charge something, it's going to be one of my phones or my iPad. This would only come in handy if you just wanted to charge it up as a backup battery, and unless it's raining you can do that in a window.
Interestingly, the Joos' greatest strength may also be its greatest weakness – its sturdiness. I have no doubt the Joos could handle a rough trip out into the outback and come back working fine. The downside is that it's too heavy for someone out backpacking. At 1.5 pounds, it takes up weight that would be better used for food and water, or even a change of clothes.
Overall, this is a handy device to have in an emergency, or to save some electricity if you have a nice sunny window in your office.
Cool Yule rating: 4 stars
Price $149
Reviewed by Tom Lupien
Guide 10 Plus Mobile Kit, by GoalZero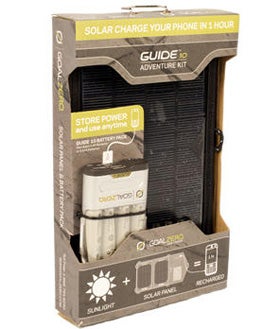 What a fun gift for the adventurer in your life! This portable solar panel could fit in the pockets of a pair of cargo pants. It lets you charge small devices, including a cell phone, while away from typical power outlets. It also comes with a four-pack of AA batteries and the charger. The battery charger even has a small (VERY small) flashlight on it. I don't think I would use it to wander the woods at night, but it would help you find a battery that rolled away from you while trying to place it into the battery charger.
Personally, I found that the solar panel had to be in direct sunlight – mild shade didn't help us much in generating enough power. However, as long as most of your camping trip is sunny, you wouldn't have to be without your technology; bring along your phone, your camera, and anything else you can think of that would either use AA batteries or a USB port.
Cool Yule rating: 4 stars
Price: $129.95
Reviewed by Jennifer Finn
Steamer Beverage Heater, by GoalZero
If you're looking for a practical, low-cost java-based device, try the GoalZero Steamer Beverage Heater. The silver and green thermos has a 12-volt car adapter so you can keep your java warm all the way to work. If you're stuck in a very long commute (or if you get stuck in traffic), having warm coffee is a blessing.
GoalZero is a company that specializes in solar-powered devices, so you can also re-charge the mobile mug with a GoalZero power pack. The company claims the insulated thermos plus plug-in heater will keep beverages up to 150 degrees Fahrenheit. At this price, it's a cute stocking stuffer idea for your favorite java junkie or commuter.
Cool Yule rating: 3 stars
Price: $19.99
Reviewed by Neal Weinberg
Bugaglove Max Electric gloves, by Columbia
If you do a lot of activities outside and hate having cold hands, these gloves are for you. They are strong, sturdy, and stylish. They're made out of leather and have a "grip panel" along the palm. I'm also a large fan of the fact that they go about halfway to your elbow and limit the ability for snow to get between your gloves and your jacket.
Of course, the coolest feature about these gloves is that they have battery packs and heat themselves! If you're thinking to yourself that your hands sweat once they get too warm, worry not. The heater in the gloves doesn't heat your palms. Only the four fingers receive the heat. It's nice that the gloves don't heat the warmest part of your hand. My only complaint though is that it didn't warm the coldest part of my hand: the thumb.
The other benefit to the gloves going so high up the arm is that the batteries are stored on the arm section, so they don't feel too heavy or clunky. The gloves have three heating modes. High will warm the gloves to 131°F and can last for 2.5 hours before killing the battery. Medium heats to 122°F and will last for 3 hours on a fully charged battery. The low setting heats to 113°F and will continue working for 4 hours. The power button changes colors so you know which setting you're on. Also, you have to hold the power button for about 10 seconds to get the gloves to turn on. Honestly, the first few tries of testing these, I thought they were broken because it took so long of pressing the button, I thought they weren't turning on.
I liked these gloves; however, I don't see them for everyday use. They seem too rugged to be what you wear for something simple like shoveling the driveway. Instead, I see them worn for ice fishing, winter hiking, or hours of skiing. Although your thumb would still run the risk of getting pretty cold. I personally wouldn't spend $399 for the limited use, but if you're a very outdoorsy person in the winter, you might love them.
Cool Yule rating: 3 stars
Price: $399.00
Reviewed by Jennifer Finn