While this week saw more news of NoSQL companies raising even more capital (here and here), one of the leaders in the NoSQL movement rolled out a new, free SaaS-based service to monitor your NoSQL database instances. 10Gen the makers of the MongoDB database have announced the new service called MMS (MongoDB Monitoring Service) which will not only give users real visibiity into their MongoDB instance, but also provide them with best practice advice to get the most out of their use of the open source DB.
I had a chance to speak with 10Gen President Max Schireson yesterday about the service. MMS is actually a sub-set of the tools that 10Gen support personnel use themselves in providing support and monitoring for commercial (read paying) customers of MongoDB.  They have taken these tools and set up MMS to allow all MongoDB users the chance to monitor the system that the DB is running on and the DB itself.  The screen shot below gives you an idea of what it looks like: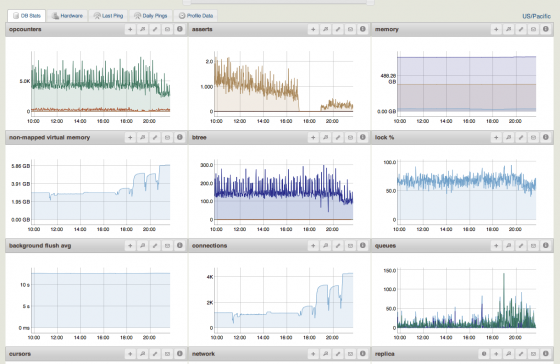 MMS runs by downloading and installing a monitoring agent on a single system running MongoDB. It will discover and start monitoring your MongoDB installation via the web based interface. "MMS auto-discovers MongoDB nodes and securely transmits important metrics such as memory usage, data base connections, index misses, read and write operations, memory consumption and CPU usage, and issues alerts when failure situations are detected".
According to Schireson the company hopes that customers using MMS will recognize the value in monitoring and support for their MongoDB install and will sign up to become commercial customers of the company.  But like other open source models, you don't have to sign up and pay anything. MMS is totally free for MongoDB users. I also asked Schireson if he foresees a time when MMS would support other NoSQL databases.  He said probably not, but that he could foresee a future where MMS plugs into some sort of Oracle monitoring service, as there is some overlap between MongoDB users and Oracle customers.
So while other NoSQL competitors are releasing their DBs into the wild, 10Gen is moving forward with this free monitoring service. I guess that is why they are one of the leaders in this very hot market.