October 25, 2001. Microsoft could not ask for a worse time to launch a new operating system. The industry was in a free-fall as Dot Coms were dying like bugs in the fall and dragging down big companies like Microsoft, HP, Intel and (especially) Sun along with them.
Plus, just six weeks earlier America had been thoroughly shaken by the worst attack on the continent ever. Ground Zero was still smoldering and the body count was not yet determined.
Still, the show had to go on. The Windows XP – the XP stood for "Experience" – had RTMed and gone to manufacturing two months earlier. XP was the logical successor to both the consumer-friendly 16/32-bit hybrid Windows 98 (we shall not discuss Windows ME) and the more powerful pure 32-bit Windows 2000 operating system.
With Windows XP, Microsoft hoped to have one codebase that would span everything from consumers to corporate desktops. It had consumer-friendly features like the new colorful interface and themes, such as the prettied-up Luna interface and the default wallpaper done in homage to the rolling hills of Napa valley. The interface allowed for customization of the desktop while at the same time sporting business features like peer-to-peer connectivity and native TCP/IP. (I am nostalgic about some things, like my old Apple IIe. Configuring Trumpet WinSock on Windows 98 is not one of them.)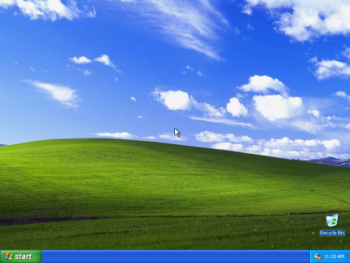 It satisfied all classes of users, from home users who wanted the stability of Windows 2000 with a better interface to the business user who wanted more control over their desktop.
Microsoft was fairly ambitious with XP. There was an embedded version that went everywhere, from phones to information kiosks. Banks in particular embraced it as a way to migrate off IBM's dead-end-but-once-great OS/2.
Microsoft actually produced a 64-bit version for Itanium desktops, but that died as quickly as the Itanium desktop movement. A second 64-bit version, formally known as Windows XP Professions x64 Edition, came out in 2005 for AMD x64 and Intel's 64-bit processors.
Microsoft got great mileage out of Windows XP, mostly out of necessity. Its normal three-year cadence for releases ended up being cast aside as Windows Vista fell further and further behind. Service Pack 2 for XP, released in 2004, added quite a bit of technology beyond the usual roll-up of bug fixes like WPA for Wi-Fi and Bluetooth support.
XP got a stay of execution because Vista proved such a stinker no one wanted it. Microsoft had to keep delaying end-of-life support to the point that XP and Vista were both still on the market when Windows 7 shipped.
That longevity has allowed XP to take root and outlast its welcome. Consumers have been quicker to ditch XP for Windows 7 while businesses hem and haw and slowly test a decade's-worth of custom apps on Windows 7. The current economic situation isn't helping one iota as budgets are constrained from Wall St. to Main St.
Still, XP (and Vista) maintains a downward trajectory according to StatCounter, with its population on the Internet at 38 percent. That is a measure of Internet-connected PCs. There are undoubtedly many more.
True story: I recently took my Camry in for work and the Toyota dealer, a very successful one here in Orange County, had Windows 2000 on all of its machines (that I could see). I think their diagnostic and testing gear from Toyota was more advanced.
So for its great and unplanned long run, let's salute XP as Microsoft has done with a pair of blog posts, reminisce a bit, and get back to work on Windows 7 machines.