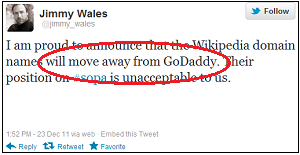 The Wikimedia Foundation, making good on a Dec. 23 promise by Jimmy Wales during the height of the anti-SOPA firestorm, has publicly announced it is transferring all of its domain names from GoDaddy to MarkMonitor as punishment for GoDaddy's early support of the failed anti-piracy legislation.
A Wikimedia spokesman told me a month ago that they were still working on the shift. And buried deep within yesterday's post on the technology blog of Wikipedia's parent organization is this one line: "The Wikimedia Foundation has started to move its domain names from GoDaddy to MarkMonitor."
(Update, March 9: It's a done deal.)
That post links to an older message that Wikimedia spokesman Jay Walsh sent to a foundation mailing list indicating the transition had begun by mid-February: "I've been informed that we're currently working with MarkMonitor to carry out a full switch-over, which as many of you will appreciate, takes time. WMF is going to post to the blog and generally share this information as soon as the process is complete.  Until then, it does mean that you'll see in some of our DNS registrations that GoDaddy is still listed."
And such is indeed still the case today, as GoDaddy remains the registrar of record for both Wikipedia and Wikimedia, according to the Whois directory.
While this was Wikimedia's first public mention of the ongoing move to MarkMonitor, that mailing list message from Walsh was posted last month in the section of Reddit devoted to Wikipedia and it sparked some discussion there, not all favorable toward MarkMonitor.
GoDaddy was an early and enthusiastic supporter of SOPA, but withdrew its backing - at least publicly - after intense criticism from the Internet community and a large number of lost customers.
I've asked Wikimedia for additional details and GoDaddy for comment.
(Update: GoDaddy didn't have anything to say about Wikipedia's departure specifically, but did offer a statement when I asked how the company will respond to the inevitable next round of anti-piracy legislation:  "While it's impossible for us to comment on hypothetical legislation, we do monitor activity in Congress on a regular basis.  Should new piracy legislation be introduced in the future, we will form our position based on the language of the bill and the support of the Internet community." ... Those last seven words would seem to be key, if GoDaddy means them.) 
Welcome regulars and passersby. Here are a few more recent buzzblog items. And, if you'd like to receive Buzzblog via e-mail newsletter, here's where to sign up. You can follow me on Twitter here and on Google+ here.