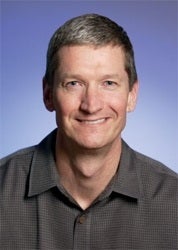 Following a frenzy of media speculation, Apple minutes ago announced what  it intends to do with the enormous pile of cash it's been hoarding: Reward investors with a quarterly dividend and initiate a stock repurchase plan.
The dividend will be $2.65 per share and arrive in the fourth quarter of Apple's fiscal 2012, which begins on July 1.
The stock repurchase plan will be worth $10 billion and begin with Apple's new fiscal year, Sept. 30.
(Pictures of iPad mania ... from around the world.)
From the press release:
"We have used some of our cash to make great investments in our business through increased research and development, acquisitions, new retail store openings, strategic prepayments and capital expenditures in our supply chain, and building out our infrastructure. You'll see more of all of these in the future," said Tim Cook, Apple's CEO (right). "Even with these investments, we can maintain a war chest for strategic opportunities and have plenty of cash to run our business. So we are going to initiate a dividend and share repurchase program."
"Combining dividends, share repurchases, and cash used to net-share-settle vesting RSUs, we anticipate utilizing approximately $45 billion of domestic cash in the first three years of our programs," said Peter Oppenheimer, Apple's CFO. "We are extremely confident in our future and see tremendous opportunities ahead."
Media  guesswork had been running rampant of the weekend regarding Apple's announcement, as the $98 billion pile of cash provided ample opportunity to speculate. However, the dividend - a move the late Steve Jobs resisted -- was considered to be the best bet.
Apple was to provide additional details in a press conference beginning at 9 a.m.
(Update: Peter Kafka at All Things D has running account of press conference, though I didn't see anything stunning.)
(Update 2: Time writer says tax avoidance is part of the motivation here.)
(Update 3: Apple shares up 1% in early trading.)
Welcome regulars and passersby. Here are a few more recent buzzblog items. And, if you'd like to receive Buzzblog via e-mail newsletter, here's where to sign up. You can follow me on Twitter here and on Google+ here.