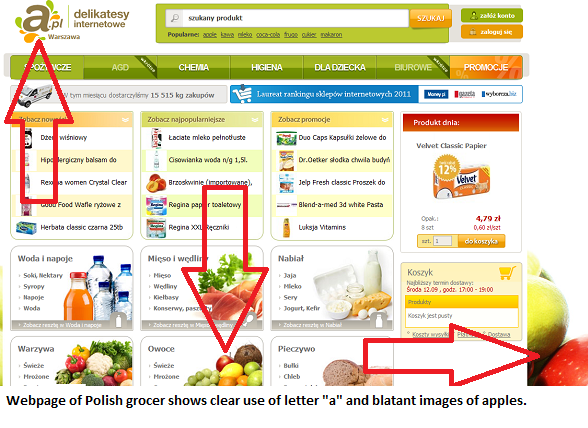 The producers of Sesame Street had better watch out, because it would appear that Apple has staked a legal claim to the letters "a," "p" and "l."
Otherwise it's not apparent how to interpret the company's claim that a Polish grocery website called A.pl has committed trademark chicanery through both the naming of its site and allegedly similar logo. As you can see from the photo above, the evidence would appear to be, um ... well, not in the photo above.
(Watch Steve Jobs introduce first iPhone)
From a Reuters report that could use a bit more detail:
The Polish patent office said on Tuesday the U.S. maker of the iPad, iPhone and iPod had filed a complaint, accusing the website of copying one of Apple's icons to its logo and riding its coattails to win customers.
"Apple brand is widely recognized and the company says that A.pl, by using the name that sounds similar, is using Apple's reputation," patent office spokesman Adam Taukert said.
A.pl chief executive Radoslaw Celinski said: "The accusation is ludicrous." The firm, which is not currently using the logo in question, is looking at Apple's complaint.
Now we'd like to give Apple the benefit of the doubt and assume that the grocer's not-yet-in-use logo actually does look like Apple's iconic one and therefore the litigious gadget maker might have a case ... if you overlook the unlikelihood of anyone mistaking a grocery website for Apple's.
However, Apple forfeited that benefit some time ago.
Welcome regulars and passersby. Here are a few more recent buzzblog items. And, if you'd like to receive Buzzblog via e-mail newsletter, here's where to sign up. You can follow me on Twitter here and on Google+ here.