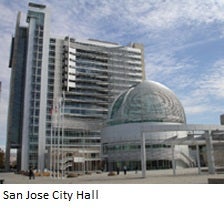 Last week we did a post about a marketing video produced for Symantec that featured the dropping of a 500-pound server rack off the roof of 18-story San Jose City Hall. A reader questioned whether this was an example of tax dollars being wasted, and while I assumed Symantec footed the bill, I was curious as to how one goes about getting permission to pull off such a stunt ... and what it might cost.
Explains Matt Morley, deputy director of the city's Public Works Department, in an email:
The City of San Jose has facility use provisions in policy and municipal code that allow for the rental of the facility.  Typically our rentals are more common weddings and corporate events.  However, we have seen an increasing interest in filming activities.  These are approved by me as provided for in our policy and code.

This unusual request was one that had me especially nervous as my first goal is maintaining the functionality of the facility.  In this case, facility staff met with the film company well ahead of time to make sure we were comfortable with the plan, especially the protection of City Hall infrastructure.  On this occasion we tripled our normal damage deposit to $3,000 in addition to our insurance requirements. 

The producing company covered all of our City staff costs for weekend work.  They also paid for rental of the space.  The entire bill for the event totaled nearly $6,000 even after we refunded the damage deposit.
Which I'm guessing was a fraction of what 32Ten Studios charged for its ultra-slick video production.
Welcome regulars and passersby. Here are a few more recent buzzblog items. And, if you'd like to receive Buzzblog via e-mail newsletter, here's where to sign up. You can follow me on Twitter here and on Google+ here.