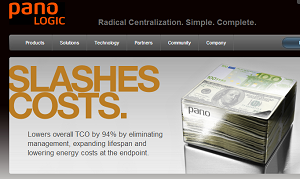 Pano Logic, a maker of virtual desktop infrastructure headed by former Wyse CEO John Kish, has apparently gone out of business ... and I say apparently only out of an abundance of caution.
According to a report in the Credit Union Times, Pano Logic's former PR firm acknowledged the shut-down, even though there has been no official public confirmation by the company itself. As of this moment, the company's Web site carries no relevant information.
That silence aside, much like the parrot in the famous Monty Python sketch, there would appear to be ample evidence that Pano Logic as a company has left this mortal coil.  
The company's previously active Twitter account issued its last tweet Oct. 22.
Same goes for Pano Logic's Facebook page, where anxious customers are leaving messages like this one: "Why has the management and investor sections of your website been removed?" And this: "What is your post-bankruptcy plan for support and parts?"
The latter question was posed a week ago by Sean Kubin, a senior associate at Network Data Services in North Little Rock, Ark. He tells me that he posted that message after he and his coworkers went to extraordinary lengths to contact the company by phone and email, efforts that proved futile ... with one exception.
"We needed tech support and couldn't get anyone to pick up the phone or return our messages," Kubin says. "Finally, some (Pano Logic) VP picks up the phone - he just happened to be there cleaning out his desk - and he says that out of the blue everyone was told they were gone."
Desperate for more information, Kubin says Network Data Services pressed its contacts at technology wholesaler Ingram Micro to see what they knew. "A couple of days later they got back to us and said we had a scoop; that (the closing) had something to do with a cease and desist order that (Pano Logic) couldn't fight," Kubin says.
Pano Logic was founded in 2006 and employed (presuming past tense is applicable) 50 people, according to Wikipedia.
My own inquiries to Pano Logic have elicited no reply.
Welcome regulars and passersby. Here are a few more recent buzzblog items. And, if you'd like to receive Buzzblog via e-mail newsletter, here's where to sign up. You can follow me on Twitter here and on Google+ here.