Now here's a story you'll probably never read about one of those newfangled e-readers like the Nook or Kindle: Man finds $20K-plus in a hollowed-out book at local dump.
ARGUMENTS: ebooks vs. print books
Regrettfully, I can't claim the money even though the dump (or "Recycling & Disposal Facility") is located in my hometown of Wellesley, Mass., and although we've left dozens and dozens of books at the dump's book shed, a take-it-or-leave it area where residents drop off old books and pick up new ones.
In fact, my kids and I have even hollowed out a few books for fun, though am quite sure we've never left so much as a penny in them.
What's great about this story is that the gentleman who found the book, as he picked through items while at the dump, is actually looking for the rightful owner by sharing his story. All you need to do is identify the tome and describe the contents. If no one claims it, the man says he'll keep the money and give a chunk to charity. (Our initial email to the man in attempt to get further comment bounced back).
By way of background, this is no ordinary dump, er, RDF.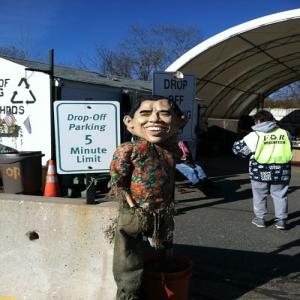 Why, even President Obama was there this week (OK, just a likeness).
The town makes a profit at the recycling center, which is a model for other towns. And Wellesley's many affluent residents find no shame in plucking used items from the dump and decorating their homes with the treasures (nor do we less affluent residents -- "Why yes, that dinner dish you're eating off of is a family heirloom...had it for years."). This is no ordinary dumpster diving venue.
Our dump has been written about zillions of times. One of the first things I recall reading about the dump was a police report about some guy who kicked another guy with a "shod foot" during an argument over a piece of furniture.
As you can see by the sign above (5-minute dropoff limit), visitors -- such as antiques dealers -- are discouraged from loitering.
But of all the stories I've seen about our dump over the years, I have a feeling this particular story is going to stand out above all the others, especially if the book owner does step forward.
And as for finding a fortune inside an e-reader someday: Well, I suppose it's always possible an outfit like iFixit that does teardowns of gadgets like Kindles and iPads could accidentally leave some money inside before reassembly.