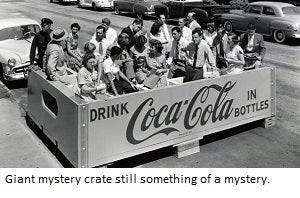 Coca-Cola wants its revamped website - billed as a brand-focused online magazine called Coca-Cola Journey -- to be for readers what its flagship product is for the thirsty: not merely an option but a habit.
That seems ambitious, if not audacious. And while Journey's debut headlines are compelling enough - Coca-Cola is, after all, an American icon with a fascinating history -- in a couple of instances the stories failed to fully quench my curiosity.
From a New York Times story about the makeover:
The use of the word "story" is significant because the Web site changes are indicative of the growing interest among marketers in recasting their communications with consumers as storytelling rather than advertising. Just as attention is being paid to developing content to use for brand storytelling, an appetite also exists for corporate storytelling.

"The hot thing is to talk about being publishers," said (Ashley Brown, director for digital communications and social media). "We have this belief in great, real content and creating content that can be spread through any medium as part of our 'liquid and linked' strategy."

To make that easier, "my team, the digital communications and social media team, has been re-formed in the last year to look more like an editorial team at a long-lead magazine," he added, "with a production schedule and an editorial calendar."
As for the stories that caught my eye, the first was, "The Beatles, Coca-Cola and the Casbah Coffee Club," which promises to explain the presence of a Coca-Cola cooler in the cover photograph of a book chronicling the early history of the band and that venue. It's a genuinely interesting story, despite the unabashed shilling for Coke ... and the fact that it fails to answer the question about the cooler in the picture.
Same problem with this next piece: "The Family Story Behind a Vintage Photo of the Giant Coke Crate." The crate is pictured above. And while the tale of how they found the guy who built the crate is interesting -- see the video below - it fails to reveal the purpose for which the behemoth was built.
I'm going to guess it was part of a parade float.
And if the Coca-Cola people behind Journey really want to be magazine publishers, they will keep on the case until they find the real answer. I'd go back to read that story.