An apparently fictitious press release purporting to announce the acquisition by Google of a Wi-Fi provider called ICOA has some in the tech press scrambling to find their erasers.
(Did #FoolishParents name daughter Hashtag?)
No such acquisition has occurred, insist both non-principals. According to TechCrunch:
"This is NOT TRUE!!" wrote CEO George Strouthopoulos in an email. "Never had any discussions with any potential acquirers!! This is absolutely false!" he wrote in an email. "Someone, I guess a stock promoter with a dubious interest, is disseminating wrong, false and misleading info in the PR circles."
Here's a screen grab of the "NOT TRUE" press release apparently issued by PRWeb: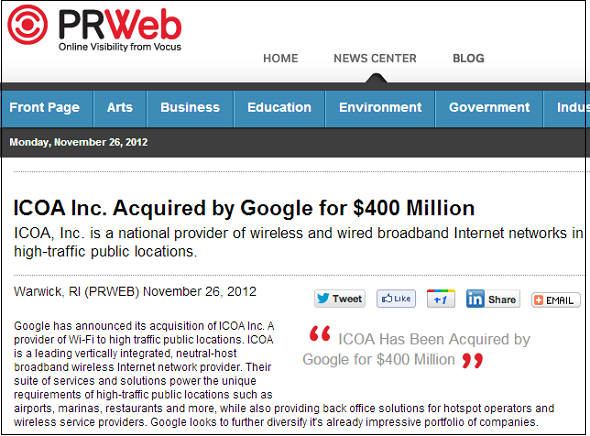 And here's one showing a couple of media outlets that were taken in and a couple that at least later on got it right.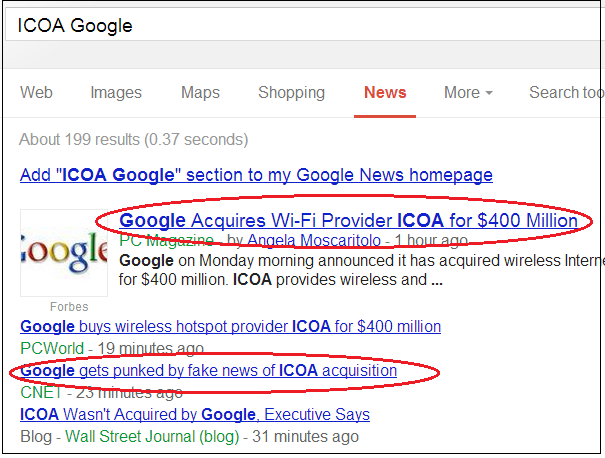 Finally, here a glimpse of the impact that the "NOT TRUE" release had on ICOA's apparently "struggling" stock; note what appears to be a spike: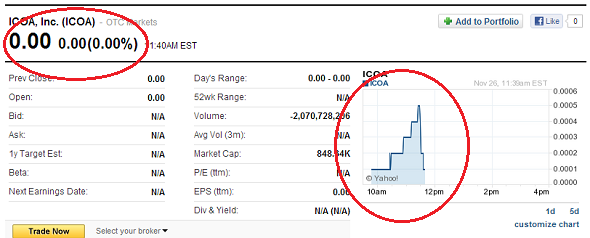 PRWeb is a service provided by marketing software maker Vocus. I've asked Vocus for an explanation and will let you know if they get back with one.
(Here the statement that PRWeb has posted to its blog: "PRWeb transmitted a press release for ICOA that we have since learned was fraudulent. The release was not issued or authorized by ICOA. Vocus reviews all press releases and follows an internal process designed to maintain the integrity of the releases we send out every day. Even with reasonable safeguards identity theft occurs, on occasion, across all of the major wire services. We have removed the fraudulent release and turned the matter over to the proper authorities for further investigation.")
Welcome regulars and passersby. Here are a few more recent buzzblog items. And, if you'd like to receive Buzzblog via e-mail newsletter, here's where to sign up. You can follow me on Twitter here and on Google+ here.