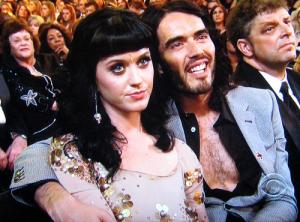 (Photo via http://www.flickr.com/photos/lovemaegan/)
More people are Facebook friends with their exes than their current relationship partner, according to new research on social media use by the University of Edinburgh business School.
Whereas 56% of users were Facebook friends with their boyfriend, girlfriend or spouse, 64% keep in touch with or tabs on their former partner on the site. Keep in mind the survey involved about 300 people with an average age of 21.
This backs up other recent research, including a Western University study that found 88% of people (ages 18-35) follow their exes.  (Although some celebrities, such as  Katy Perry, stop following their exes after they split up...as she did with with Russell Brand, shown with Perry above.)
If this sort of online juggling sounds potentially stressful, it likely is. The University of Edinburgh Business School researchers found that more different social groups a Facebook user has, the more likely stress will result, as some social groups might disapprove of Facebook posts that others would find fine.
"Stress arises when a user presents a version of themself on Facebook that is unacceptable to some of their online 'friends', such as posts displaying behaviour such as swearing, recklessness, drinking and smoking," according to the university. "As older people join the site, this has become an increasing problem as their expectations may be very different from those of younger users"
The researchers say Facebook users on average are friends with seven different social circles, including offline friends, family, friends of friends and colleagues.
Facebook users could probably reduce some of the stress resulting from being friends with diverse groups by taking more advantage of privacy settings. Only a third of those surveyed use them.
Ben Marder, author of the report, said in a statement: "Facebook used to be like a great party for all your friends where you can dance, drink and flirt. But now with your Mum, Dad and boss there the party becomes an anxious event full of potential social landmines."
Bob Brown tracks network research in his Alpha Doggs blog and Facebook page, as well on Twitter and Google +.