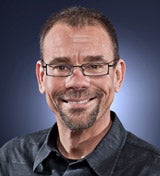 Will there ever come a time when enterprises just store everything in the public cloud? Probably not, according to Dr. Rich Wolski, CTO and co-founder of Eucalyptus Systems. Eucalyptus makes cloud management software for AWS-compatible clouds. While these clouds are private, the key in using Eucalyptus is that you can integrate them easily with public cloud infrastructure on Amazon's market-leading cloud.
Of course, there has been a lot of back and forth for the leadership of the cloud. Is the future of cloud based on AWS compatibility? What about some of the leading open source cloud stacks, like Cloud Stack and OpenStack? Many think that the open source OpenStack will overtake AWS. Right now, Eucalyptus has made their bet on AWS.
Suprisingly, though, Dr. Wolski says Eucalyptus is not wed to Amazon. If in fact Open Stack gains more traction and it makes sense for Eucalyptus to integrate with OpenStack, it will. If the market shows that Cloud Stack integration makes sense, Eucalyptus will do that, too. It is all about the market share of these various architectures.
One issue, though, is that not everyone is going to move everyone to the public cloud. There will always be private clouds, according to Wolski. Also there will always be hybrid clouds,where a private cloud instance will integrate with a public instance as well. That is the real key to the Eucalyptus model.  
At least right now that model seems to be successful as Eucalyptus is posting impressive growth and market share numbers.  But Wolski believes that we have just scratched the surface on the cloud. We are still in the early adopter phase. The big growth is still in front of us.
You can listen to my entire conversation with Dr. Wolski below. It is just about 15 or so minutes. Rich is a very bright guy and has knows more about the cloud then just about anyone I know. It is always a learning experience in listening to what he has to say.
Enjoy!