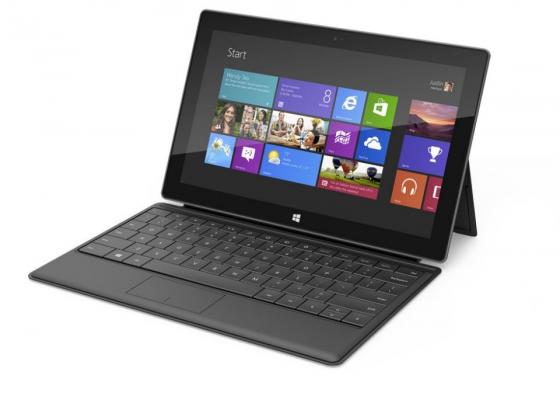 I am not a Microsoft hater. I've scoffed after I've read some of the recent articles about Microsoft being irrelevant because of the post-PC era bringing a Windows Apocalypse upon us. I actually believe that if you are a top-three player in a given category, you are successful. Microsoft will continue to be top-three in a wide range of markets. But I had to roll my eyes when I saw the pricing for the Surface Pro tablet announced this morning. With the keyboard (that comes with the Surface RT free), a fully loaded tablet will be around $1,100. Sorry Bill and Steve, but this isn't 1998 and I am not paying that kind of money for a tablet!
Yes I know, it has a genuine Intel Inside CPU (which frankly isn't "all-that" anymore anyway). I know that you can run just about all of the apps you can on your laptop on this box. But here is the problem: I don't pay a grand for my laptops anymore, and they are Intel Inside too. Why would I pay that much for a tablet? When Apple premium tablets are $500 less than the Microsoft tablet, I say Microsoft has missed the boat. Let's not even get to Android tablets, which are usually even less than the Apple tablets. Microsoft seems to have just misread the market on this one (again).
Yep, I know you get all of the enterprise management capabilities that you get with a regular laptop or desktop with Surface Pro. But is the lack of these capabilities stopping tablets from invading the enterprise? The BYOD steam engine has not slowed down because of a lack of enterprise management. This leads me to believe that Surface Pro may be more aimed at Company Owned, Employee Used (COEU) market. That makes sense, in fact. Companies looking to staunch the BYOD flood may not mind paying $1,000 a throw for tablets. But I don't think in today's economic environment companies are that free and easy with money. The same factors that fueled the BYOD craze are still there.
Another factor I have seen thrown around for this pricing is that this will allow Microsoft to sell the Surface Pro through its channel partner and allow them to make some money as well. I think not. I think this will allow Microsoft partners to go to Taiwan and other places and have their own tablets made that will run Windows 8, and will sell them for less than the Microsoft Surface. Again, there's that fundamental difference between the Apple and Microsoft model. If Microsoft is in the hardware business with Surface, they have to watch others taking the same software and selling it on cheaper hardware for less.
Of course, Google knows this well. What makes Google's Nexus better than any number of other Android tablets? Really not much. But then again, the Google tablet is only $499. Who would buy a Nexus 10 for $1100? Either Microsoft is the sole supplier of Windows 8 tablets ala Apple and then try to get the premium price, or they have to be price-competitive with others selling tablets with the same software.
In the meantime, there will be those who say this is one more example of why Microsoft has lost it and is now irrelevant. Again, I don't think they are irrelevant. But sometimes they make mistakes that can't be corrected before the window of opportunity closes for them. I would hate to see the window close on Windows Pro tablets so soon.