According to the latest report by security management company OPSWAT, which anti-virus product is now the fastest growing and most popular on Windows PCs? If you didn't guess Microsoft, you are wrong. Yes, as hard as it may be for some of you to swallow, Microsoft's free security essentials anti-malware software is the most popular and fastest growing AV in the world. In North America the Microsoft product has an even more commanding lead (note that world-wide Microsoft is first based onusers with real-time protection activated).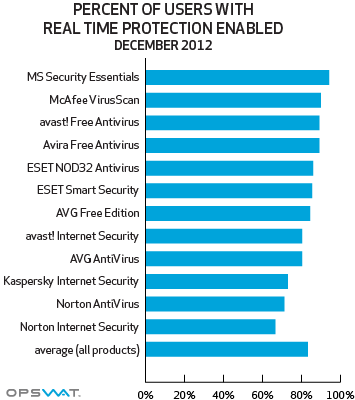 Now, there will be some of you who say big deal, anti-virus is pretty much useless anyway. But the fact is most PCs have some AV installed on them. Many regulatory compliance rules mandate that AV is installed and up to date. The numbers show that when Microsoft's security essentials is installed, over 94% of users have it activated for real-time protection. That is a pretty big difference compared to, say, Symantec with only about two-thirds of its users activating real-time protection.
The same sort of ratio holds true when considering the last time the AV signatures were updated. With Microsoft's updates built into the Windows update process, again about 94% of users had updated within the last seven days. On the other end of the spectrum, Symantec's Norton brought up the rear with only about 50% of users having updated in the last seven days.
One thing that is clear is a strong preference for free AV products. This could mean that people put very little value in these AV products and are merely checking the box for compliance purposes. Another reason may be commoditization. Many people (including me) don't really see a big difference between the protection offered by most of the leading AV products. With no clear advantage, why would someone want to pay for a product when there are quality free options?
Another observation from the OPSWAT study are that there is a pretty big difference between the AV products of choice in North America compared to the rest of the world. Taking world-wide numbers into account, Avast Free AV is neck-and-neck with Microsoft, as is Avira and ESET. But in North America, after Microsoft, Symantec is next, with the rest having a distinctly smaller market share than they do in the rest of the world. That should underscore that the Internet and tech world is not as U.S.-dominated as it used to be. There are an awful lot of computers out there outside the U.S.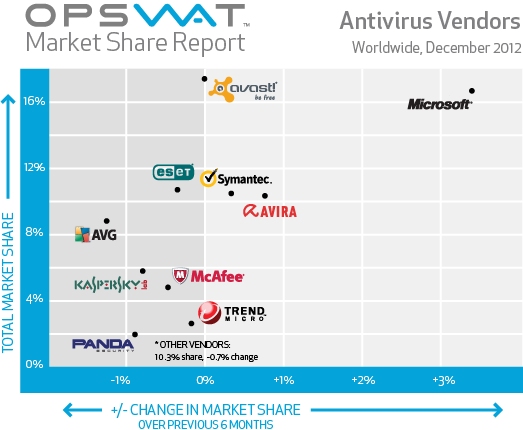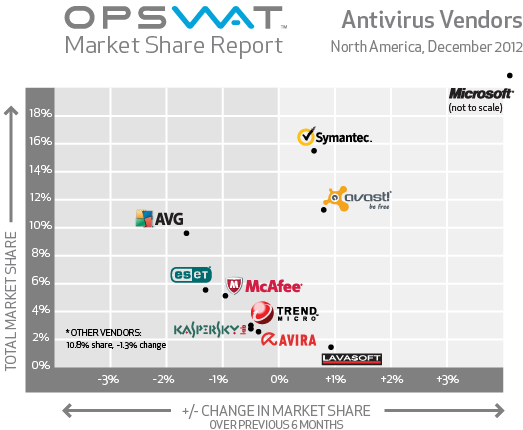 Another caution for this survey is that these are Windows-based machines only. It doesn't take into account Macs or mobile devices by Apple, Android or others. In terms of skewing the numbers, mobile-based AV will dwarf the PC AV market in a few years, if not sooner.
Within the Windows Market, though, it is clear that Windows 7 rules the roost, with XP holding an ever-decreasing share. This survey was really done too early for Windows 8 to make much of an impact. One clear takeaway is that Vista has been quickly replaced by Windows 7 and remains perhaps the weakest Windows ever (OK maybe Windows Me was worse).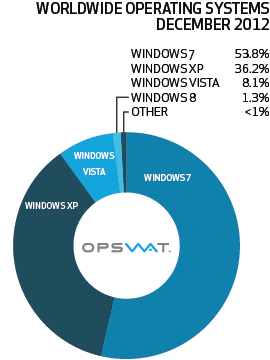 When you remember what a cash cow these AV programs have been for years for companies like Symantec, Trend and McAfee, the impact of the free AV from Microsoft and others is staggering. I remember when even like the seventh- or eighth-leading AV was still good for $100 million a year in revenue. It also explains why Symantec and McAfee have made such a quick move to the mobile market. Promising to be bigger than the PC market and still able to charge for product, the old guard is in desperate search for new markets to harvest.  
Commodization has come to the PC AV market and Microsoft has won in the end. If I would have told you that 10 years ago, you would have told me I was crazy. But sometimes the truth is stranger than fiction.