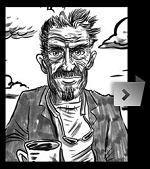 It would appear as though The John McAfee Traveling Circus is about to blow out of Guatemala City -- maybe -- headed for parts unknown, at least according to one of the show's ringleaders.
From a post by "Harold M." on The Official John McAfee Blog:
John will be released from detention at 9:00 A.M., Guatemala Time, from the Immigration detention center in Guatemals City.  He has not divulged his plans.
And in comments, one of his supporters, Scott, speaks for many when he exhorts: "Into a cab ... airport please."
Yes, cab, then airport, then go away, John. Go far, far away.
The Los Angeles Times has an account of the judicial circumstances leading to McAfee's release, as told by one of McAfee's attorneys.
Meanwhile, back in Belize, where all of this started, police continue to investigate the murder of McAfee's neighbor without the cooperation of McAfee, whose appearance for questioning they have sought for weeks while he has been on the run and entertaining an endless string of reporters.
It would seem unlikely that McAfee will head back to Belize, but since he has reportedly sold the rights to his story (call me ultra-skeptical on that score) the plot could well require him to do so.
My money is on his landing someplace else, though ... anyplace else.
(Update, 11:15 a.m.: No, still no word whether he's out or not, but at least we do know who this "Harold M." character is: It's John McAfee! Just  another one of this clever fellow's little "misdirections." Those who care can read his explanation here.)
(Update: 1:30 p.m.: Still no word on either McAfee's blog or Twitter account about the release that was supposed to happen hours ago. And since my bosses have inexplicably denied my request to fly to Guatemala City to stand vigil, I figure I might as well attend this afternoon's company holiday party instead.)
(Update 3: And he's in Miami.)