Continuing our look at some of the big technology news from 2012, today's Year in Review report from the IDG News Service discusses a lot of the "future tech" we sway this year.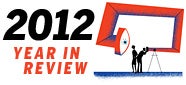 Martyn Williams brings us the report, featuring futuristic touch-screens, Google's driverless car project and robotic earthworms, to name a few.
In case you missed some of the other IDG News Service Year in Review videos, here are some other links: Gadget Year in Review Robot Year in Review
*
*
We plan on producing a few more Year in Review videos next week, so stay tuned!
Keith Shaw also rounds up the best in geek video in his ITworld.tv blog. Follow Keith on Twitter at @shawkeith. For the latest IT news, analysis and how-tos, follow ITworld on Twitter, Facebook, and Google+.
Watch some more cool videos: