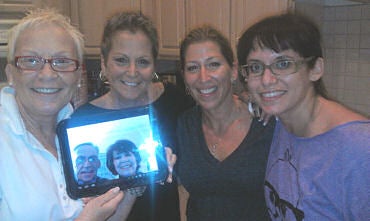 I am hearing from a lot of family and friends that they just "don't feel it" about the Christmas spirit this year. In a way, who can blame them? The awful events in Newtown have been a blow to the spirit for all of us.
For me, personally, I have had a tough holiday season so far, too. Some emergency dental surgery has had me pretty much laid up over the last few weeks and I am still eating only soft foods (tough way to lose weight). But last week we had a family get together to celebrate Hanukkah and I was reminded once again how technology is not only making the world smaller, but making even our holidays sweeter and better.
My wife's family is split up over several states, from California to New York to Florida to Nevada and many places in between. We usually try to gather for the holidays (the family celebrates a wide variety of holidays from Thanksgiving to Hanukkah to Christmas and a few others as well) this time of year. With many of my wife's older siblings getting along and with grand kids of their own, it is not easy, but everyone makes the effort to gather for the holidays.
This year has been especially tough. One of my wife's brothers was diagnosed with cancer (refuse to capitalize it) earlier this year and is undergoing chemo and radiation while awaiting surgery. The whole family could not fly up to be with him and he was not able to make the trip down to the Sunshine State to share the holidays with the family. When we gathered at my home, everyone put on a happy face, enjoying the kids and each other, but there was something missing, something unspoken. Shortly after consuming massive amounts of potato latkes, the subject of my wife's brother came up finally and everyone traded updates on when they spoke to him last. Someone said, "too bad he couldn't be here." Then we thought, why couldn't he?
We called her brother and talked him through installing Skype. Then I took my handy, dandy HP Touchpad running Android out and we called (not dialed) to my brother-in-law. Presto! In a second, there he was in all of the screen's 9.7-inch, full-color, full-motion glory. Because it was a tablet, we were able to walk him around the house, showing him the decorations, the presents, having all of the kids say hello. It was great. The looks on the faces of my wife's family, the sounds of their voices as they spoke were, in the words of the MasterCard commercial, priceless.
After about 20 or so minutes we hung up the Skype call, but the warm glow stayed for the rest of the evening. Everyone had such a warm fuzzy that they have agreed to do this regularly from each of their homes through the year. I suggested a Google+ hang out. Who knew that my wife's family, originally from Brooklyn, and with many of them grandparents already, would be such geeks?
But the real lesson here is that technology has changed and is changing our world. Not always in good ways, I know. Yes, bad things can happen, but let's not forget to be grateful for these wondrous times we live in. We are all richer because of the changes that technology has wrought. We can reach out and share in real time with our friends and loved ones all over the world. We talk from miles above the Earth in planes, we bounce signals off of satellites in space and explore the basic building blocks of nature like Higgs Boson. Think about taking to a person from 100 years ago and putting him in your home today. What would he think?
This will be my last post before Christmas and I don't know if I will write anything next week before the new year. So let me take this opportunity to wish all of you a happy and merry holiday, along with  a peaceful and prosperous New Year. If you pray, please put in a small thanks for all of these technical wonders that have made our lives better.