In remembrance of those children and adults killed in the Connecticut school massacre, hundreds of websites have pledged to participate in an "online moment of silence" at 9:30 a.m., according to organizers.
The tribute - reportedly including the likes of Huffington Post, Foursquare, Y Combinator and E! Online -- will last for five minutes as participating sites feature this banner.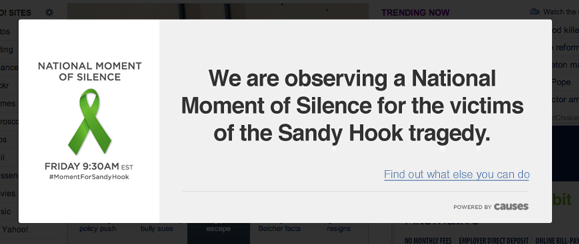 According to a CNN report:
High-profile Silicon Valley venture capitalist Ron Conway is working hard to promote the online moment of silence, which is part of a larger campaign for federal gun control legislation. Conway is leading the Causes.com campaign along with other big names including Ryan Seacrest, Jack Dorsey, Britney Spears, MC Hammer, Suze Orman and Tyler Florence.

Causes.com is a startup that uses social media to raise awareness and funds for charities and causes. Conway is also an investor in the for-profit company.

Any site that wants to participate in Friday's moment of silence can do so on its own, or it can embed an official badge with a green ribbon on its site. At webmomentofsilence.org, companies can sign up to receive a bit of JavaScript that will make the process easier. Sites using the code will appear grayed out in the background with a white box in the foreground that reads "We are observing a National Moment of Silence for the victims of the Sandy Hook tragedy."
The remembrance site lists hundreds of other sites - large and small, recognizable and not - that it says have vowed to participate. Here's a sample of the list: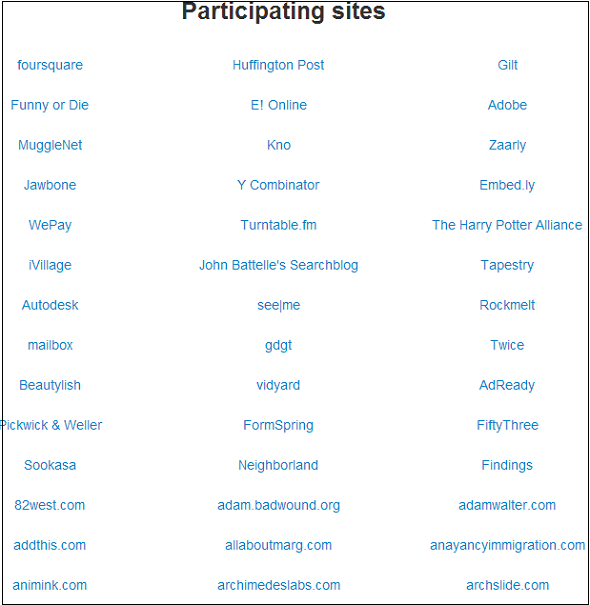 Causes.com has a counter on its site that indicates more than 170,000 individuals have signed up to participate as well.
(Update: NBC News and Good Morning America are promoting the event, so participation should grow substantially.)