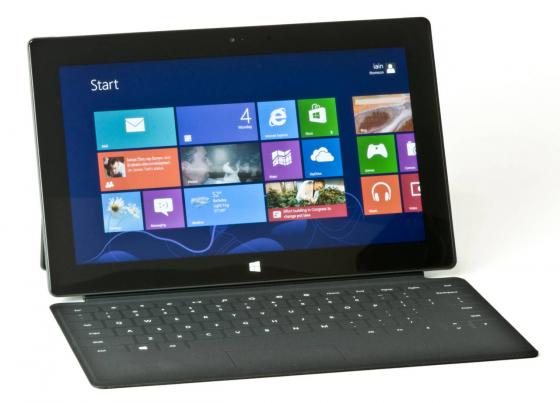 The 128GB Microsoft Surface Pro tablet (some are saying it is not really a tablet, but more on that later) has sold out in just about all of the places it was available. Microsoft directly and the few retail outlets in which it was made available are all reporting out-of-stock messages. There are some 64GB models available, but those are pretty scarce already too. Is this due to the demand for the tablets, or was it clever manipulation by Microsoft?
I am reminded of a story I read once about the folks behind the famous (infamous) night club, Studio 54 in NYC in the 80's. In order to give it an aura of being cool they used to make people stand outside the club and not let them in. They would say the club was full or insinuate the people weren't "beautiful" enough to get in. In fact, the club was empty inside, but they were looking to drive up demand by making it exclusive. Could Microsoft be doing the same thing?
We don't know, because we don't have numbers of just how many Surfact Pro tablets were made and sold yet. Estimates from brokerage firm Detwiler-Fenton put sales of the older Surfact RT model at about 500,000. If so, while a decent number, it doesn't blow the doors off anyone, and is a fraction of the number of the iPads and Android tablets sold in the same time frame.
So the question is, did Microsoft make a similar number or even smaller number of the more expensive Pro models, or did it have a larger run of these? Forrester says that upwards of 200 million people want a Surface tablet. That is a very impressive number, and if Microsoft only did a half a million unit run to start, it barely scratches the surface (no pun intended) of demand.
Another factor to consider is that Microsoft has not released the Surface Pro into its traditional reseller channel. While the Surface RT was a Microsoft-only release, speculation was that the Surface Pro would be available through Microsoft resellers. It seems that, other than big-box retailers, the traditional Microsoft channel was left out of this one. Larry Walsh over on Channelnomics writes, "Microsoft keeping Surface out of the channel also may be part of a strategy to pacify PC partners, such as HP, Dell and Acer." This could be.  Perhaps engaging the once-vaunted Microsoft B2B channel would cause too much heartburn to its PC partners.
But you have to wonder if Microsoft really wants to claim their space in the tablet market, can it afford not to engage their channel and other distribution partners? Playing nice with a PC industry in flux does not get them in the race with Android and iPad tablets that have a head start on the Microsoft entry.
Some folks are saying that the Surface Pro is not really a tablet at all. It doesn't have the battery life of a tablet and is a bit bigger and heavier than some of the 7-inch tablets out there. They say it is really more of a touchscreen laptop. Perhaps even a new kind of hybrid device that combines tablet features with laptop features, like the Lenovo Yoga. 
Personally, I think Microsoft should be happy with that classification. They are not going to come in and overtake Apple and Android by being the third entrant onto the market. If they can redefine the market by saying that, for serious business users, a hybrid tablet is required rather than some nice consumer toy, they have a winner. Rather than discourage this, Microsoft should encourage it.
In the meantime, some comments on the Surface blog are leaving the impression that some users think Microsoft is incompetent in not having enough Surface Pro units available to meet market demands. I think it may be a case of crazy as a fox, just like the empty disco had every VIP in NYC lined up outside of Studio 54, Microsoft wants to whip up demand for their new box.
Time will tell how this market shakes out. But as the "enterprise" entry in the tablet market with hybrid capabilities, it could be Microsoft has staked a claim to a valuable piece of the nex-gen device market. Now they just need to get some "Surface-ized" apps out there.