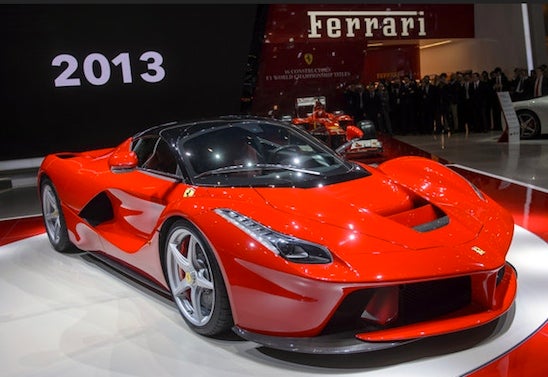 Ferrari chairman Luca Cordero Montezemolo said today that Ferrari and Apple will be exploring ways to expand upon their partnership in the next few months. No no, don't expect Apple to release an iCar anytime soon - though Phil Schiller did reveal a few months ago Apple did toss the idea around at one point. But what you can expect is to see more iOS integration in Ferrari automobiles in the future. 
Ferrari, which today unveiled the 1 million euro hybrid model "LaFerrari," is in talks with Apple about broadening a partnership on in-car entertainment, Di Montezemolo said today at the Geneva motor show. The new four-seater Ferrari model includes mini i-Pads on the passenger seats.
Okay, first things first - the LaFerrari. It costs about 1 million Euros, which translates into about $1.3 million, so you might want to start saving up soon. As for what the new LaFerrari can do, well as you might expect, it's a speed demon of the highest order. It has 949 horsepower, can go from 0-60 in just three seconds, and can get up to 124 mph in less than 7 seconds. It maxes out at an astounding 249 mph.
And just as quickly, you can now stop saving. Ferrari is only releasing 499 models of LaFerrari and they are reportedly already all spoken for.
As for iOS integration, Ferrari also announced that its four-seater FF couple will now come with iPad Minis for passengers in the back to use.
Ferrari's 12-cylinder GT sports car prowess is represented at Geneva by the FF, the very first four-seater and four-wheel drive in Prancing Horse history. It will be sporting a Grigio Ingrid livery with an elegant glass roof and Iroko interior. The FF is also now seamlessly integrated with Apple technologies, thanks to direct access to the infotainment system via SIRI voice commands and the adoption of two iPad Minis as the entertainment system of choice for the rear seat passengers.  
That Apple and Ferrari are in talks together shouldn't come as much of a surprise. Back in Novemer, Apple executive Eddy Cue joined Ferrari's board of directors. In a press release at the time, Cue noted: "I am pleased and proud to become a member of the board. I have personally dreamed of owning a Ferrari since I was 8 years old and have been lucky to be an owner for the past 5 years. I continue to be awed by the world-class design and engineering that only Ferrari can do."
And speaking of design and engineering, Ferrari press release regarding the LaFerrari reads in part:
The LaFerrari's chassis features no less than four different types of carbon-fibre, all hand-laminated and autoclave-cured in the racing department using the same design and production methods as the Formula 1 car. This helped optimise the design: various functions were integrated (e.g. seats and battery compartment) into the chassis to improve torsional rigidity (+27%) and beam stiffness (+22%) whilst cutting weight.  

The LaFerrari is the first car in Ferrari history to be powered by the HY-KERS system. The ICE represents the pinnacle of engine development and research, with a 6262 cc V12 that punches out 800 CV and revs to a maximum of 9,250 rpm, a record for an engine of this displacement. It also features a very high 13.5:1 compression ratio and a high specific output equal to 128 CV per litre. The engine is coupled with a 120 Kw (163 CV) electric motor, giving it a combined power output of 963 CV.
Translation? This car is a beast.
Below check out the official launch video for Ferrari's latest and greatest.
via Bloomberg