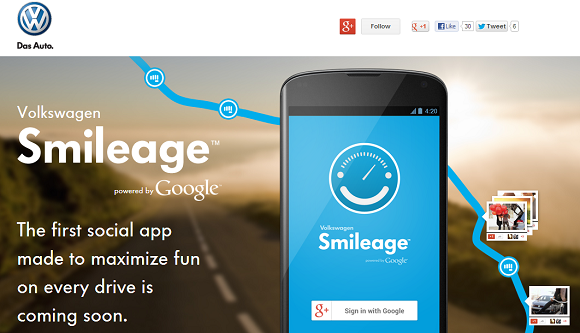 Google this morning announced its Art, Copy & Code project - "experiments to re-imagine advertising" - and kicked it off with a Volkswagen application/campaign that I cannot imagine gaining any traction.
Because, after all, cars just are not happy places.
From a Google blog post:
Building off their 2012 campaign, "It's not the miles, it's how you live them," Volkswagen Smileage is a mobile app and web service that aims to add a little bit of fun to every drive, from your daily commutes to holiday road trips.
My daily commutes have been sorely lacking in fun, I'll give them that much. And as for holiday road trips, well, I have three children. Any questions?  
The app measures the fun factor of each trip using a metric called "smileage," based on signals like weather, traffic, location, time and social interactions (e.g., a long drive on a sunny Saturday afternoon might accumulate more smileage than a morning commute in the snow).
You think? It was snowing this morning during my commute, and forecasters say it will be snowing more heavily on my drive home. I have no need for an app that measures my "smileage" because I can assure you there won't be any to measure. How about an app that measures the force of my white-knuckled grip?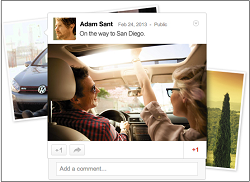 You can use it with any car, not just Volkswagens.
No, you can use it with any car, not just Volkswagens.
Powered by the new Google+ sign-in, you can choose to share your Smileage experience with friends and family. For example, during a road trip, photos and videos taken by you and your co-passengers can be automatically added to a live interactive map.
I'm taking photos and videos while I'm driving? Worse yet, my kids are taking photos and videos of me while I'm driving? Smiling I am not.
The inspiration for the service came from a recent study showing that every day, 144 million Americans on average spend 52 minutes in a car-76 percent of them alone. We wanted to make that time a more shareable experience.
Bet I know why: Misery loves company.
Volkswagen Smileage will be available soon in beta-you can sign up on this webpage for early access.
If you must, please don't do it while driving.
(Update: Ed Weatherall, a London-based marketing professional, pinged me on Twitter to point out that Volkswagen has mined this "fun" theme previously ... and much more effectively. Watch.
Now that's fun.)