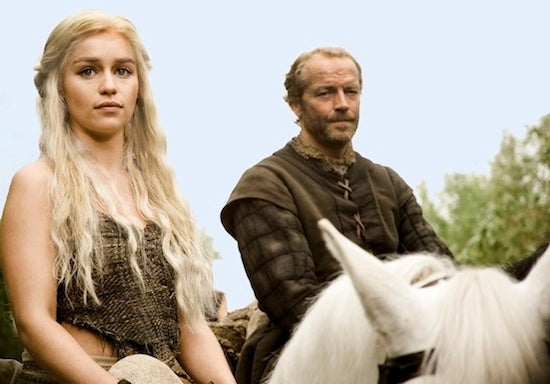 It's undoubtedly a heated topic of debate amongst media executives - does piracy help popularize a product and encourage consumers to spend money or does it simply encourage freeloading?
Now, given that Game of Thrones is reportedly the most pirated show of 2012, Game of Thrones director David Petrarca is particularly worth paying attention to when it comes to the effects of piracy. That said, Petraraca articulated that illegal streams and downloads of HBO's wildly popular fantasy drama aren't necessarily hurting the show and have actually helped it garner a sizeable and passionate audience.
TorrentFreak reported recently:
Petrarca [explained] that all these unauthorized downloads don't matter because shows such as Game of Thrones thrive on "cultural buzz" and benefit from the social commentary they generate.

"That's how they survive," he said during a panel discussion at the University of Western Australia.

In other words, the director believes that the buzz created by pirates puts the show on the radar and eventually leads people to buy HBO subscriptions.
It's not a bad theory, but one has to ask if pirates can download the show in pretty solid quality, why would they choose to subscribe to HBO as opposed to continuing to download it illegally? Of course, perhaps it's possible that these pirates become such big fans of the show that they deem it worth their hard-earned money, and subsequently HBO subscriptions ensue.
That said, some episodes of Game of Thrones have been downloaded upwards of 4 million times. In short, say what you will about piracy creating "buzz," there's simply no getting around the fact that there's a lot of money at stake clearly being lost to piracy.
But HBO, to its credit, isn't seeking to alleviate the problem by going after pirates. Rather, they're going to make the show more accessible to the masses.
Forbes reports:
According to Jeff Cusson, HBO's senior vice president of corporate affairs, "We think the key to combating piracy is to make content like Game of Thrones available worldwide within the smallest window possible…to 176 territories within the week of the U.S. premiere."

Cusson said, "HBO is also rolling out HBO Go internationally," which means many viewers in Europe, Latin America, and in other locations like Hong Kong can watch Game of Thrones at their leisure on their iPad/iPhone, Roku, Xbox 360s, their Android devices, and selected Samsung Smart HDTVs.
Indeed, many speculate that the piracy rate that currently shrouds Game of Thrones has grown so high simply because it's not available in many countries across the globe.
That said, HBO's strategy to make new episodes available in as many places as possible will certainly help, but what about folks in the U.S. who don't have HBO? After all, in order to have HBO one has to be a cable subscriber, and on top of that, pay an extra few bucks for an HBO subscription.
Wouldn't it be great if HBO offered anyone access to its complete library of shows for x amount of dollars per month?
That may not be in the cards, but the success of the iTunes Music Store certainly proved a point Steve Jobs had long been making - that if you make content accessible and available for a fair price, consumers, by and large, will tend to pay for media as opposed to pirating it.