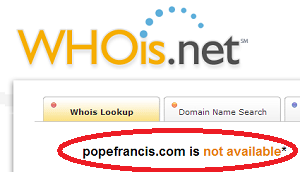 Nothing sparks an Internet land grab quite like the selection of a new pope, according to Go Daddy, which reports registering almost 500 papal-themed domain names in the first hour of the new papacy.
On the other hand, the most interesting such registration happened in 2010 when someone - Go Daddy didn't say who - registered the name PopeFrancis.com.
(2013's 25 Geekiest 25th Anniversaries)
That someone didn't remain anonymous for long, however. From a post on The Smoking Gun:
Christopher Connors, 39, appeared taken aback when contacted at his office by a TSG reporter. He declined to answer what led him to register popefrancis.com in April 2010, or what he had planned for the site (which is parked on a Go Daddy server).

Pictured at right, Connors is a solo practitioner who specializes in representing whistleblowers who seek to "report anonymously information about corporate bribery, fraud, or corruption to the U.S. Securities and Exchange Commission." In return, these whistleblowers can sometimes receive "substantial rewards" from the SEC, according to the web site for Connors's law firm.
As for that land rush, here's the rundown from Go Daddy:
Here are some registration statistics Go Daddy saw after the announcement. Keywords such as Pope, Francis, Bergoglio and Habemus Papam were used in identifying the new domain names registered with Go Daddy.

In the first hour 479 domains were registered with Go Daddy.

Within the first 10 minutes of the announcement, more than 100 domain names were registered.
Turns out the solemnity of the occasion can be overstated.
Welcome regulars and passersby. Here are a few more recent buzzblog items. And, if you'd like to receive Buzzblog via e-mail newsletter, here's where to sign up. You can follow me on Twitter here and on Google+ here.