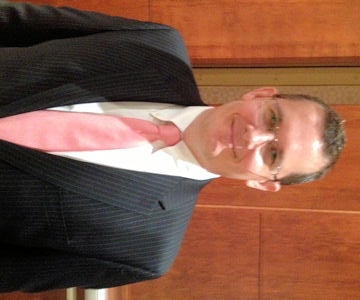 Here at MSPWorld 2013 in Orlando a diverse group of exhibitors are trying to enlist Managed Service Providers (MSP) to use their products and services. The red hot MSP market is undergoing yet another growth cycle, as businesses small and large seek to outsource all facets of IT to third parties. The group ranges from household tech names like Dell and McAfee to startups like iScan Online and VirtualBridges. All of it is pretty much as expected to Charles Weaver, co-founder and CEO of MSP Alliance, who produces the yearly MSPWorld event.
Most of the vendors at this year's conference, as well many of the education tracks, revolve around security and the cloud. Probably not a surprise, as these are two of the top-of-mind topics in IT in general. BYOD is also a very hot topic at this year's show, with most of the MSPs I have spoken to looking for solutions to deal with this hot megatrend.
Weaver and his wife Celia started the MSP Alliance back in 2000. They sought to be the voice of the managed service provider industry, and more than that to provide a code of ethics and accreditation to the MSP market that would allow business customers to know their MSP meets high credibility standards. Today, the MSP Alliance boasts over 20,000 members.
Charles says the numbers he has seen and believes indicate that there may be as many as 80,000 MSPs in North Amercia. That is an awful lot of folks delivering services, but it admittedly includes a lot of single-man shops who are traditional resellers and VARS who seek to deliver services in support of the products as well, Weaver says.
The market saw a bit of shrinkage in the dark days of 2009 Weaver reports, but it has bounced back stronger than ever. Both Weaver and his partner, co-founder, and wife Celia think the market still has plenty of room for growth as well. Celia says that is why it is as important as ever for the MSP Alliance to continue its mission of accrediting MSPs who make the grade, not only for technical proficiency, but in terms of stable business status as well.
Celia says it is important that customers know their MSP has the financial resources to see them through potential rough times. This why over nine years ago the MSP Alliance started its Unified Certification Standard (UCS) for Cloud and Managed Service Providers (MSPs). Since that time the MSP Alliance has continued to roll out standards and programs for MSPs.
MSP Alliance has come up with a Bill of Rights for customers of Cloud and Managed Service Providers:

As a consumer of cloud or managed IT services, I acknowledge the special relationship that exists between my Cloud Service Provider/Managed Service Provider and me. I understand the trust I am placing in my MSP by having them manage my IT (in whatever capacity that may take). I also understand that as consumer of managed IT services I have certain rights and expectations from my MSP.

1)    I have the right to expect impartial advice from my MSP. Moreover, I have the right to expect my MSP to propose solutions and products that are not unduly influenced by any one vendor.

2)    I expect that my MSP will not hold themselves out as a subject matter expert in an area where they are unqualified to render an expert opinion.

3)    When asked to render an expert opinion in an area where they are not an expert I can expect that my MSP will either become educated on the matter or seek out another MSP who is an expert in that area.

4)    I have the right to expect that any information disclosed to my MSP during the course of my relationship with them will be treated as privileged information and will not be disclosed to any third party except when mandated by applicable law.

5)    I expect that if at any time my MSP cannot perform its duties that they will notify me accordingly.

6)    I expect that my MSP will avoid any situation that may create a conflict of interest.

7)    I have the right to expect that my MSP will not misrepresent or withhold information on the performance of products, systems or services.

8)    I have the right to expect that my MSP will not take advantage of the lack of knowledge or inexperience of others.

9)    During the course of the relationship I have the right to expect my MSP to safeguard any data belonging to my organization provided that data is within the scope of my MSP's duties.
In addition, the Alliance has recently rolled out an insurance program for MSPs that provides both E&O coverage as well as data breach coverage. The policy is through Lloyds of London and is pretty low-cost for MSPs of all shapes and sizes.
The theme at this year's show is certainly security, though. It seems security is both a high-margin as well as a high-demand ticked for managed service providers. Dealing with ubiquitous BYOD adoption is causing some MSPs to research what their customers expect from them.
That is a another consistent message heard here at the show. MSPs don't adopt new services because they are cool or in vogue. When customers demand a solution and are willing to pay for it, MSPs will deliver, but not a second before. For the Weavers and the MSP Alliance, that is just the way it should be.