The U.S. Patent and Trademark Office on Tuesday granted a patent to a lawyer-rating service called Super Lawyers that has some patent experts shaking their heads.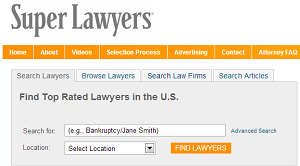 "It's a terrible patent," says Daniel Nazer, a staff attorney for the Electronic Frontier Foundation and its exemplary Patent Busting Project. "It's a classic example of the patent office not doing a good job."
The abstract reads:
The present invention provides for a system and method of identifying excellence within a profession. In one embodiment, excellent performing candidates within a profession group are identified by creating a candidate pool from independent research and a peer nomination process. Identified candidates then obtain a score according to an independent research and objective evaluation process. Peer evaluators contribute to this score by evaluating top-scoring candidates, and a total score is compiled for each identified candidate. Candidates with scores in a top percentage of the candidates are then recognized as demonstrating excellent performance in the profession group.
Apply a few standard computing resources, and voila, you've got yourself a patent.
Why does Nazer call it terrible?
"It's not technology; it's not an invention," he says. "The idea of doing a ranking based on a survey is older than computing. ... It doesn't pass the laugh test."
Nevertheless, the Super Lawyers are "proud to announce" their new patent in a blog post.
The patent has stirred up a heated discussion at the Patently-O blog, where not everyone is as anxious to dismiss the Super Lawyers "invention" out of hand.