As I'm leaving home this morning, Grant, my 11-year-old son and Minecraft marvel, says to me: "Dad, Minecraft is only 7,000 away from reaching 10 million. And it's going up about one every second." Since he has mentioned this before, I knew he was speaking of a counter documenting how many people had purchased the PC/Mac version of the insanely popular video game, priced today at $26.95.
A few minutes ago, that counter hit the magic number. (Important updates below: While this screen grab is exactly what it appears to be, the number in the counter is not. ... Later: Now it's official.)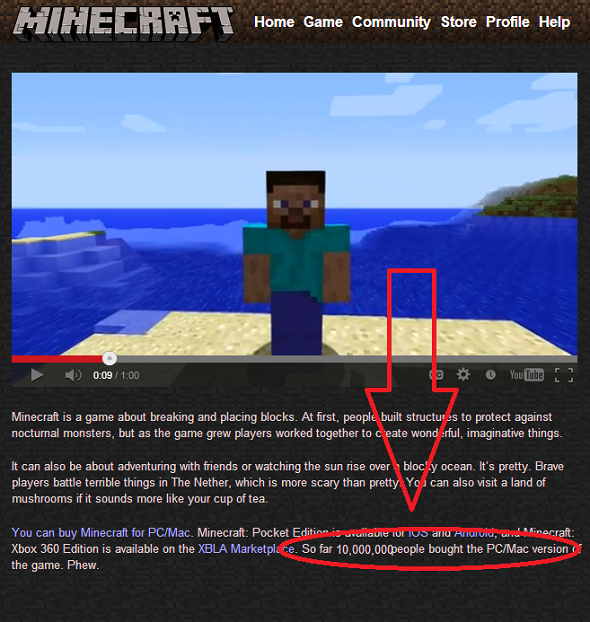 Created by Swedish Programmer Markus "Notch" Persson and now developed by Mojang, the alpha version of Minecraft was released in May 2009. In 2010, while still in beta, the game became a smash hit, selling more than 1 million copies.
All three of my 11-year-olds, Grant, Emma and Max, are heavily into Minecraft, so much so that I sometimes hear the Wii remotes weeping in the living room.
(h/t Grant McNamara)
(Update: In a comment below, Rob Newberry notes that the counter has dropped back below 10 million. He says the picture is "obviously a fake." It's not. Here's my reply to that comment: I took the screen grab myself directly from the Minecraft.net homepage and most certainly did not fake it. When I returned to the open window with the site up (just now after seeing your comment) the 10,000,000 had risen beyond 10,006,000. When I hit refresh, it went back down to 9,997,790. Don't ask me why because I haven't the slightest idea. But I did spend way too much time this morning looking at that counter and jotting down numbers -- to gauge the rate -- and noticed on at least two other occasions that the number had backed up. Again, no idea why. But I know what I saw: The count hit 10,000,000, as you see in the picture -- I literally watched the last few hundred tick off -- and it chugged on by that number for quite some time. My best guess would be that there is and/or has been some kind of problem with the counter.)
(Update 2: According to a tweet from Minecraft developer Jens Bergensten, "the counter on the frontpage of http://minecraft.net  is just a script, the real stats are on /stats." And the "real stats" show the sale count still below 10 million and won't surpass that mark for another five hours or so. If I'm reading that first tweet correctly, it would seem that "just a script" means "this counter on our homepage is what you might call bull crap." I've sent Bergensten a tweet of my own asking why they would have an inaccurate counter - with no disclaimer - on their homepage.)
(Update 3: Now it's official.)