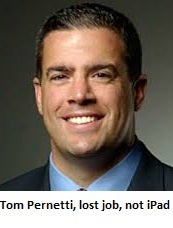 You might think the man could afford his own iPad and laptop.
Former Rutgers athletic director Tim Pernetti, forced to resign over his role in a scandal that also cost basketball coach Mike Rice his job, is leaving with some swell parting gifts: $1.2 million in salary, car allowance, health insurance ... a laptop ... and an iPad.  
From that AP story:
Under his agreement, Pernetti is to be paid his base salary of $453,000 per year through June 2014 and a one-time payment of $679,500 in the next month. He gets the money even if he takes another job.

He also gets his $12,000 per-year car allowance through June 2014 and health insurance and pension payments through October 2015.

Pernetti also gets to keep his Rutgers-issued iPad and laptop computer.
OK, so we're talking about a used iPad and a used laptop. It's still a sweet deal for resigning in disgrace.