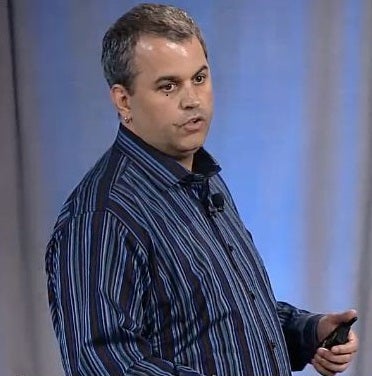 Facebook engineering VP Cory Ondrejka explains Facebook's Android-first strategy.
The most remarkable aspect about the Facebook Home announcement, and one that the critics largely missed, was Facebook engineering VP Cory Ondrejka's important insights on the project. Home is a clear statement that Facebook's 2012 mobile-first initiative just became an Android-first product development strategy, and it is a study in world-class mobile development.
RELATED: A case for a Facebook phone 
Instead, the post-announcement discussion devolved into a Faustian drama where Mark Zuckerberg was the devil, Facebook users were Faust, and Home was the means by which Zuckerberg was going to convince them to trade their souls.
Even if Zuckerberg evokes the wrong emotions, the technical story of Home deserves some attention. Skip past Zuckerberg and start watching where Ondrejka explains Facebook's Android-first mobile development methods. Every organization with the goal of developing immersive mobile apps should watch Ondrejka's presentation because he clearly states why Android was Facebook's "open" platform of choice for developing the next generation:
Android's intent system means that software running on Android can profoundly change; user experience, added features, this is how you do it.
The polished demonstration of Cover Feed and Chatheads was entertaining, but more importantly is Facebook's strong mobile development team, led by Ondrejka, who has relevant experience leading teams building immersive games like Road Rash 64 and the immersive social application Second Life.
Facebook is really open about its technical strategy. It has shared much about its mobile approach with the iOS and Android developer communities by hosting technical sessions, during which its developers present how they built the iOS- and Android-native versions of the Facebook app. If it has not yet been recognized as a leader in mobile development, it will be.
Home is really Home 1.0; what developers call the Minimally Viable Product (MVP) is a fairly stable release with a set of features that will serve to evoke user feedback, which can later be used to improve the product through incremental releases. Ondreika was clear about this when he said:
"Home is going to release every month, so every month Home is going to have more features, run on more devices and it's going to be better…"
In response to the controversy, Facebook weighed in with a blog post on privacy. Network World reached out to Veracode analyst Andrew Reiter, an experienced developer and security analyst who reviews Veracode's customers' mobile code to identify and eliminate potential security exploits. After expressing some concerns about how permissions could be misused, Reiter put the security controversy in context by twice stating during the discussion, "at this point my opinion is theoretical and I have not yet touched Home." When he does download Home, Reiter would probably enjoy finding a security flaw in Home for professional reasons. And Facebook would be pleased to receive his report and improve Home in the next monthly release.
No one expects a substantial app like Home to be flawless. There is no cause for alarm yet based on a new threat to user privacy and/or malicious code. Home will be released on April 12. Facebook users will try it, Reiter and other professional security analysts will test it, and Facebook will listen and develop the next release based partly on what it hears from its users and the technical community.
Facebook's intention is to collect the same information it collects with other web and mobile versions so it can advertise more efficiently for its large brand customers, ad agencies, and ad networks. This is what Google, Apple, Microsoft, Yahoo, the mobile carriers and many other web properties also do. The only option for the users under the delusion that these internet properties should not collect personal information is to stop using mobile apps and searching the mobile web. This is an exchange of user information for free social networking services. Outside of broad legal limits, privacy is a matter of the good judgment of the user and Facebook.
Home is really worth watching because Facebook has an exceptional and well-resourced mobile team of designers and developers engaged in using Android and cutting-edge mobile methods to make social interaction and communications through Facebook better and more immersive. The story about Home is Android-first.
Anyone with an interest in mobile, which is pretty much every person and company that uses and/or has a website or mobile app, should watch and learn how great mobile code is created.