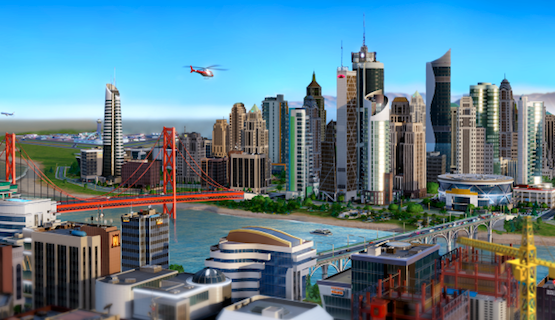 EA announced today that the latest iteration of SimCity will be coming to the Mac on June 11. Available exclusively as a digital download, folks who already purchased the game for their PC will be able to get a Mac version for free via EA's Origin online store.
With more than 1.3 million units sold on PC since launch, the beloved city-building simulator is back with the series creators at Maxis™ and it delivers the most immersive and personal SimCity experience ever, where players can create and destroy the cities of their imaginations. SimCity runs natively on Mac and its entire software renderer was rewritten for OpenGL, ensuring the best performance for the platform. Via Origin, SimCity is cross-platform compatible, so all players will be able to play together across the same servers. Players will be able to play both versions with the same Origin account, allowing them to seamlessly continue their cities, achievements and leaderboard progress across the PC and Mac.
Note, though, that the game isn't merely a simple port of the PC version.
"We didn't want to make any compromises when it came to the Mac so we created a native version that is optimised for the hardware and OSX," EA Senior VP and General Manager Lucy Bradshaw explained.
Buyer beware, though. The PC version of the game currently has a 1.5-star rating on Amazon based on nearly 2,500 reviews. You might remember the chaos that ensued following the release of the PC version game as a result of the game's always-on DRM scheme. In order to play the game, users had to constantly be connected to EA's servers. EA's servers, however, couldn't handle the load and the result was frustratingly sluggish gameplay, with many users also reporting that hours worth of changes made during gaming sessions were going unsaved.
EA subsequently promised to increase the number and stability of their servers. Server capacity in particular increased by 400%. And while the company refused to issue refunds to disgruntled consumers, they did offer SimCity owners the ability to download a free EA title from their online store.
EA has since fixed many of the initial bugs that plagued the PC release, but you still might want to keep an eye on early Mac reviews for SimCity before you give EA some of your heard earned cash.