While Apple has yet to confirm the dates for its insanely popular Worldwide Developers Conference, the event will almost certainly be held June 10-14 at the Moscone Center in San Francisco. A more closely guarded secret, however, is when registration for the conference will open, and that's cause for consternation because last year tickets sold out in two hours, triggering great frustration on the part of those denied a spot.
Before we get to a German developer's answer for increasing a would-be attendee's chances, here's how we can be reasonably confident of the conference dates. As has been noted by others, the Moscone Center's online calendar of events has a weeklong gap June 10-14 that dovetails nicely with the dates of the past decade's worth of these events, all of which were held at that venue. See: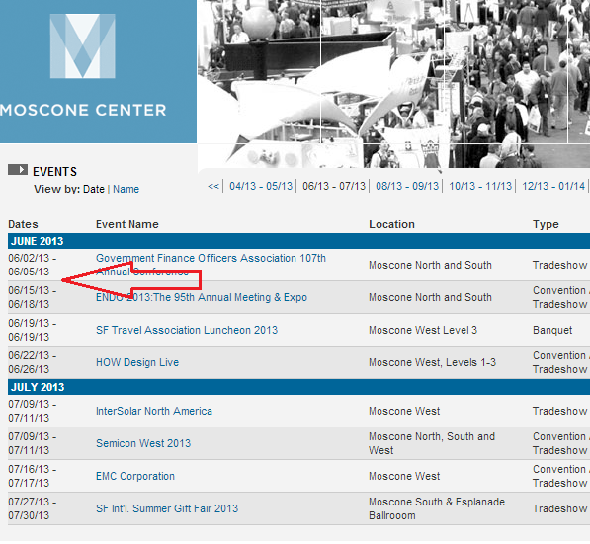 Not proof, but don't bet against it.
As for increasing your chances of acquiring a coveted conference badge, a 34-year-old German developer named Florian Schimanke is touting WWDC Checker, his iPhone/iPad app that promises to let you know the second that Apple rings the bell for registration.
"Most of the logic is on the server side," Schimanke, author of a popular Apple blog, tells me via e-mail. "I have written a script which checks Apple's WWDC website every minute for some values indicating that this year's WWDC is announced. To avoid false alarms it does some additional checks before it triggers the push notification to be sent."
And while every Apple blog and news site on the planet will trumpet the news as soon as humanly possible - and some are offering their own alerts -- as you can see from the WWDC Checker screen capture, right, minutes may matter in this race to acquire conference credentials.
"The idea is to be quick," says Schimanke, who by day works as an IT coordinator for a small university. "Since last year's WWDC sold out in just two hours a lot of developers seem to be keen about knowing very early, especially in Asia when it is usually bedtime when Apple announces the event. Last year those guys didn't even have a chance to order their tickets."  
Last year Apple opened and closed WWDC registration on April 25, so you've probably got time to join the 150 or so who have already bought Schimanke's WWDC Checker. At least you can be sure it won't sell out.