American Airlines this afternoon grounded its entire fleet of planes because of a computer problem with its reservation and booking system.
The airline alerted the public to the issue via Twitter just after noon.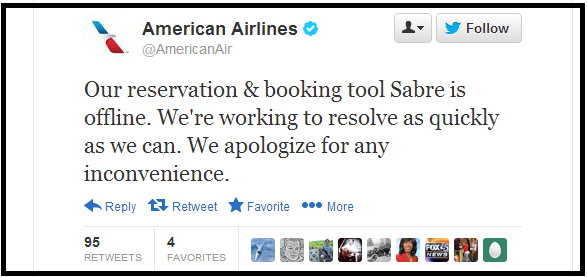 That was followed by another tweet announcing a "system-wide ground delay until 4:00 p.m. CT."
From a story in USA Today:
The nation's third-busiest carrier had been having "intermittent " problems throughout the day, but announced at 2:38 p.m. ET that it was grounding all flights in an effort to resolve the problem.

"American's reservation system is experiencing intermittent outages," AA spokeswoman Andrea Huguely said in a 1:50 p.m. ET e-mail to Today in the Sky. "We're working to resolve the issue as quickly as we can. We apologize to our customers for any inconvenience."
An IBM marketing executive, Ed Brill, who was awaiting takeoff at Dallas-Fort Worth Airport expressed his frustration, also via Twitter: "Three more hours on the tarmac????"
But after being told passengers would be allowed off the plane, he added: "Anyone with good recommendations along the drive between DFW and Austin? Looks like that is my afternoon."
(Update, 3:50: Latest AA tweet a few minutes ago offers two things that should go without saying: "We're currently unable to modify today's reservations. However, when able, we'll offer refunds or update travel at no charge.")
(Update, 3:55: Sabre says don't blame them, according to a New York Times story: "Sabre, meanwhile, said the issue did not come from its own computer systems. Other airlines, including Southwest Airlines and JetBlue, use Sabre and have not experienced any outages, said Nancy St. Pierre, a spokeswoman for Sabre.")
(Update, 6 p.m.: The system is back up, AA says, but things are far from back to normal. Needing more than 140 to explain, this one is on the airline's Facebook page.)
Welcome regulars and passersby. Here are a few more recent buzzblog items. And, if you'd like to receive Buzzblog via e-mail newsletter, here's where to sign up. You can follow me on Twitter here and on Google+ here.