Apple's iWatch at this point is nothing more than a murky rumor. Indeed, the only product we can be sure Apple is planning to release anytime soon is the iPhone 5S.
That said, there does seem to be substantial interest in Apple's rumored iWatch. According to a recent survey conducted by ChangeWave Research, there is "exceptionally strong interest" in an iWatch device from Apple.
In the chart below, we see that 14% of respondents indicated that they'd be somewhat likely to purchase an iWatch while only 5% of respondents indicated that they would be very likely to purchase an iWatch. All told, that amounts to a 20% interest level among consumers, which by itself may not seem all that high, until one considers that initial interest in Apple's iPad measured in at only 18% according to a ChangeWave poll conducted a few months before Apple's tablet actually launched.
And we all saw how sales of the iPad turned out.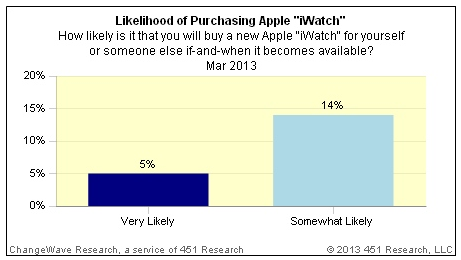 While there haven't been many rumblings about Apple's alleged iWatch in the last few weeks, previous rumors have indicated that Apple has upwards of 100 employees working on the project. What's more, Citigroup analyst Oliver Chen laid out a few reasons why he believes an iWatch may prove to be a $6 billion opportunity for Apple. Indeed, with Apple's stock price at a 52-week low, investors are wary of Apple's ability to continue to deliver innovative products in an increasingly competitive market place.
Then again, we went through this same song and dance when Apple was riding high on its iPod profits a few years back, and more recently in the interim period after the iPhone launched and before the iPad was announced.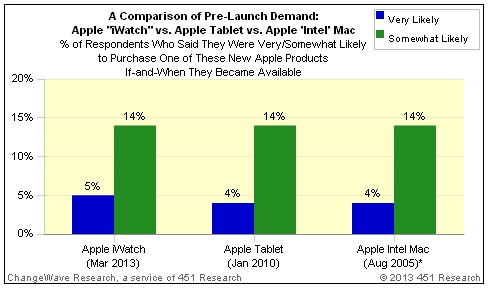 #mce_temp_url#
via AppleInsider
You might also enjoy: