There has been some discussion about the meaning of Facebook Home's relatively slow first-week download performance. The results: 500,000 downloads in five days.
However, the largely negative sense around the first-week response doesn't appear to be shared at Facebook. Last week, in response to questions about download targets for Home, Facebook's Engineering VP Cory Ondrejka indicated that the company would be looking at the download numbers in about six months.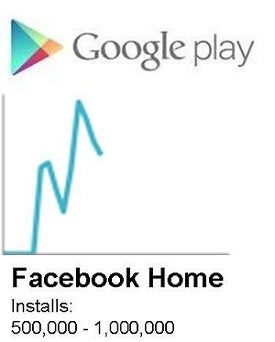 Many have compared Home downloads to the Instagram for Android release, which saw one million downloads in the first 24 hours, and jump to the conclusion that Home missed the target. This is an apples-and-oranges comparison because of the extreme difference in product maturity at the points of comparison.
Look at the history of Instagram. The first release was in October 2010. Two months later, Instagram reached 1 million downloads. Instagram for Android was released in April 2012 when the product features were fully understood and was a favorite among 30 million iOS users. How does the download of 1 million Android versions of Instagram in one day, in addition to a base of 30 million at a time when Facebook had made big news with $1 billion acquisition of Instragram, compare to half a million downloads of Facebook Home Release 1.0 coming with no other major Facebook news? It doesn't.
How many first-day downloads of a brand new app have done as well as FB home? This information is not readily available, but are there any?
Facebook Home's two-star rating is definitely an issue. Not many version 1.0 products get a five-star rating in their first week on the market. Less famous companies have the luxury of introducing a minimal viable product (MVP) and iterating it in obscurity from two stars to five. Facebook is in the unfortunate position of having to introduce an MVP at scale solely because of its prowess. Facebook needs to make progress with its ratings with each release. It is not only important for Home, but Facebook promotes its paid service to help its mobile developers get Facebook users to download their apps. It's very important for Facebook to lead by example here.
Home is a release 1.0 and an MVP that Facebook plans to continue to develop and iterate at least monthly. Its ratings and download statistics are a starting point in testing Home's features with a large audience and subsequently adding and subtracting what users want and don't want. Even in comparison to Android, first-week downloads don't appear to be of much concern to the company.
It will be telling to see what the usage rates look like in six months, especially if Home is made available on a broader selection of phones than the select four that are currently supported.