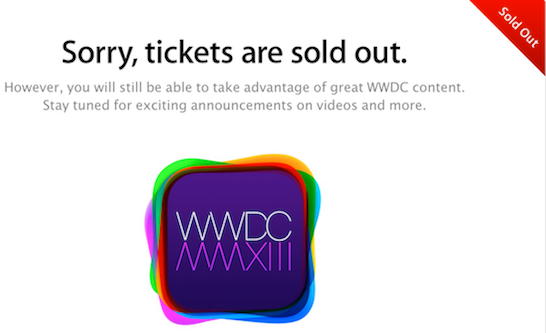 Well if you were hoping to get tickets to WWDC this year, you're likely plum out of luck. Tickets went on sale early on Thursday morning and sold out within, wait for it...., two minutes. Yep, folks looking to get some hands-on time with thousands of Apple engineers had to be extremely quick, and likely lucky, to get tickets before supply was exhausted.
With the growing success and popularity of iOS, and to a lesser extent OS X, WWDC has been selling out faster and faster each year. To wit, WWDC 2011 sold out in less than 12 hours while  tickets for WWDC 2012 sold out in less than two. And now, believe it or not, the metric used to measure WWDC sellouts is minutes.
Developers who weren't able to get the $1500 tickets aren't completely out of luck. Apple will be streaming video from developer sessions throughout the event. Note that Apple used to post these videos after WWDC and previously charged hundreds of dollars to developers to access them. Now, it's on the house.
This year's WWDC event will take place from June 10 through the 14th in San Francisco.