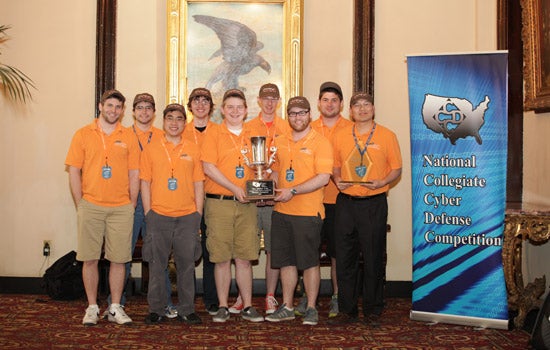 A team of Rochester Institute of Tecnology students earlier this month won the National Collegiate CyberDefense Competition vs. 9 other regional winners, showing resiliance after being beaten in the finals the past 2 years.
The competition, which took place in San Antonio over two full days (10am to 6:30pm), involved students taking over the IT department of a fictional correctional facility with the goals of keeping the ntwork systems and Web services (DNS, https, email, etc.) up and running, defend the network and systmes vs. an attacking
RELATED: Air Force's hackers with NSA's 13th annual Cyber Defense Exercise
SANS NetWars tests cybersecurity pros against peers
"Superstars don't really help in this type of competition," said Bo Yuan, an associate professor of computing security and coach of the RIT student team, in a statement. "It requires coordinated effort to distribute workload wisely and evenly, and takes a disciplined approach to share information and complete tasks on time."
RIT's 8-member team (plus coach) beat out teams from the University of Alaska Fairbanks, Millersville University, Rose-Hulman Institute of Technology, Dakota State University, University of Washington, United States Air Force Academy, University of Central Florida, Oklahoma State University and California State Polytechnic University, Pomona.
(Photo via Stephanie Smith)