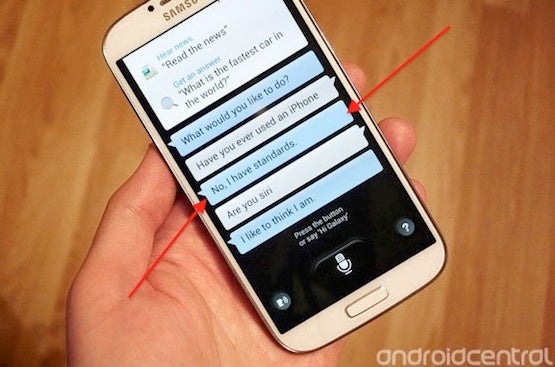 Well folks, it would appear that S-Voice, Samsung's own take on Siri, isn't partial to using an iPhone. You might recall how Apple's Siri has a number of Easter Eggs, which is to say it has a library of snappy responses to off-color queries, and it appears that Samsung's S-Voice wants to get in on that action as well.
When a user asks a Samsung device running S-Voice if it has ever used an iPhone, it replies, "No, I have standards."
Then, rather comically, if a user asks if the device is Siri, it responds, "I like to think I am."
So now we have both Samsung hardware and software parading around as Apple products!
The above answers reportedly show up on the international Samsung Galaxy S4 in addition to a few other select models.