This will be must-see TV for me (and that's rare outside of sporting events). NOVA and PBS have announced that they will air an hour-long special May 29 dedicated to examining the roles played by technology and science in the investigation that led to the capture of the Boston Marathon bombing suspects.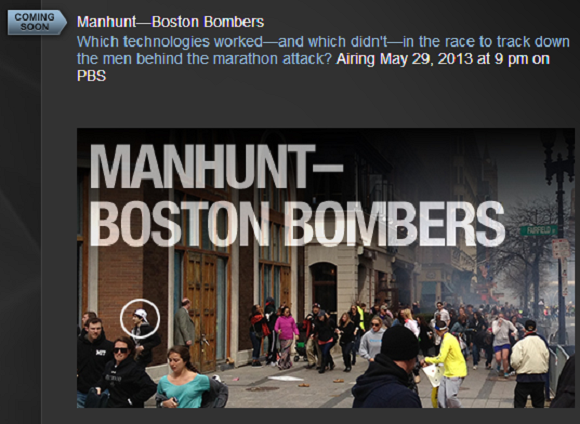 From a NOVA/PBS press release:
At 2:50 pm on April 15, two bomb blasts turned the Boston Marathon finish line from a scene of triumph to tragedy, leaving three dead, hundreds injured, and a city gripped by heartbreak and terror. Less than five days later, the key suspects were identified and apprehended with one dead, the other in custody. How did investigators transform the chaos of the bombing into a coherent trail of clues, pointing to the accused killers?

NOVA follows the manhunt step by step, examining the role modern technology - combined with old-fashioned detective work - played in cracking the case. Given hundreds of hours of surveillance and bystander videos, how did agents spot the suspects in a sea of spectators? Why couldn't facial recognition software I.D. the criminals? How much could bomb chemistry analysis, cell phone GPS, infrared imagery, and crowdsourcing reveal about the secrets behind this horrific crime? With the help of top criminal investigators and anti-terrorism experts, NOVA explores which technological innovations worked-and which didn't-and how the world of crime fighting could be transformed tomorrow.
Just a couple of the points I'd like to see addressed:
News in the wake of manhunt made frequent mention of the fact that the carjacking victim who escaped from the bombing suspects had left his smart phone (called in iPhone in many reports) in his vehicle and that the phone was instrumental in tracking them down. Mentioned less frequently was that the vehicle, a Mercedes ML 350, was equipped with a two-satellite system called mbrace. Was mbrace part of the manhunt's success? (I asked Mercedes at the time and got no reply.)
(Will entering your ATM PIN in reverse summon the police?)
In addition, I'll be interested in hearing what experts have to say regarding the role of crowdsourcing. Much was made of the excesses and collateral damage caused by over-eager crowdsourcers and the media outlets that exploited them, but did meaningful information emerge from all of those eyes and ears?
Hosted by Miles O'Brien, "Manhunt - Boston Bombers" will air Wednesday, May 29 at 9 p.m. on PBS.
(Update: Coincidentally, the Boston Athletic Association, which conducts the Boston Marathon, announced today that the 5,633 runners who were unable to finish the course because of the bombing will be allowed to enter next year's race.)
Welcome regulars and passersby. Here are a few more recent buzzblog items. And, if you'd like to receive Buzzblog via e-mail newsletter, here's where to sign up. You can follow me on Twitter here and on Google+ here.