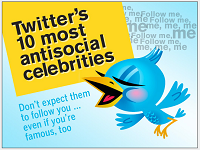 The idea for this slideshow - Twitter's 10 most antisocial celebrities - was born when I noticed that Stephen Colbert has almost 5 million followers but followed absolutely no one. (He has since started following former President Bill Clinton after Clinton appeared on Colbert's show.)
How antisocial of Colbert, I thought, before realizing that for the Colbert character there could be no other possibility.
So what about other celebrities who cannot hide under the cover a lovable egomaniac? It turns out that very few follow so few: Of the top 500 Twitter accounts in terms of follower numbers, only 10 follow either no one or a single other.
Their excuses seem less clear than Colbert's.
But I will say one thing in defense of these "antisocial" celebs: They're actually being a bit more honest than a lot of Twitter users, including this one. Justin Beiber, for example, shows a "following" roster that tops 123,000 Twitter users. I doubt he's on a first-name basis with many.