The Electronic Frontier Foundation, striking an unusually combative tone, this afternoon is calling upon podcasters of all stripes to help identify the "prior art" necessary to invalidate a patent that has been wielded by a Texas company against the likes of How Stuff Works and Adam Carolla.
In addition, EFF is launching a separate fundraising drive called "Save Podcasting" that aims to generate what the group estimates will be $30,000 in legal costs - over and above pro bono work - likely to arise from this effort.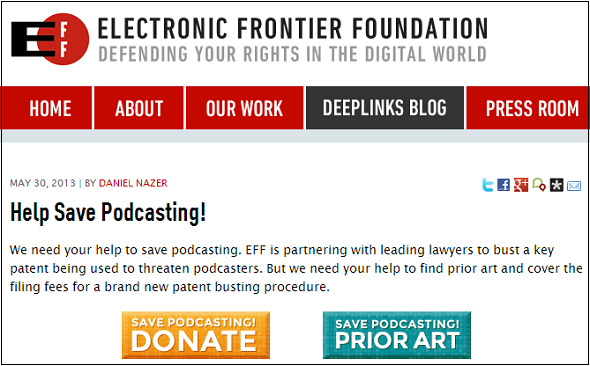 From an EFF press release:
The patent trolls have gone far enough: Starting today, the Electronic Frontier Foundation (EFF) is mounting a new, focused campaign to bust the dangerous patent that a Texas company has been using to shakedown podcasters.  EFF intends to challenge the original grant of that patent before the U.S. Patent and Trademark Office by proving that the company, Personal Audio, did not really invent anything new.

EFF is partnering with the Cyberlaw Clinic at Harvard's Berkman Center for Internet and Society to use a new legal tool against this patent called the "inter partes review," which was introduced by the America Invents Act.  The first step is to identify "prior art," or published examples of similar or identical ideas, that existed before October 2, 1996.  EFF is putting out a call today to the podcasting community to spread the word and help us collect the prior art we need to fight this dangerous patent.
You can read more about "Save Podcasting" and donate either money or prior art tips here.
And the Personal Audio Patent - for a "System for Disseminating Media Content Representing Episodes in a Serialized Sequence" - can be seen here.
(Update: Personal Audio's side, as told to Backstage by Richard Baker, the company's vice president of licensing, earlier this year: "The patent system is a way to compensate inventors for sharing their technology with the world," Baker said. "(Inventors) Mr. Logan, Mr. Call, and Mr. Goessling published their invention so others could understand it, and they need to be compensated for their work. I don't know if you would call us a patent troll. Mr. Logan's a serial entrepreneur who started a number of companies, and one of them was Personal Audio. I think it was before its time, and it failed. But he self funded that company and maintained ownership of the patents.")
Welcome regulars and passersby. Here are a few more recent buzzblog items. And, if you'd like to receive Buzzblog via e-mail newsletter, here's where to sign up. You can follow me on Twitter here and on Google+ here.