The first episode of Reading Rainbow - the iconic PBS television series that encouraged a generation of kids to turn off the tube and pick up a book - aired 30 years ago today on June 6, 1983. There would be a total of 155 over the show's 21-year run, which ended in 2006.
Yesterday, Reading Rainbow host LeVar Burton asked his 1.8 million Twitter followers: "Hey Y'all, in honor of its #30thAnniversary what does @readingrainbow mean to you? I'll take your word for it." (The latter a reference to Burton's standard opening line -- "But you don't have to take my word for it" -- in the show's Book Reviews segment.)
(Twitter's 10 most antisocial celebrities)
Here's a sample of replies: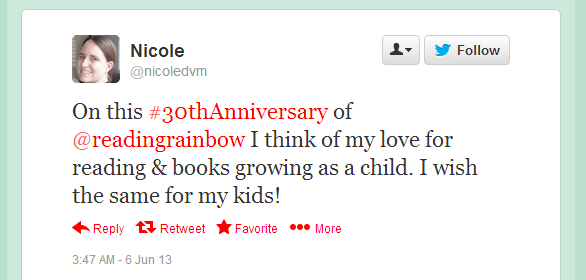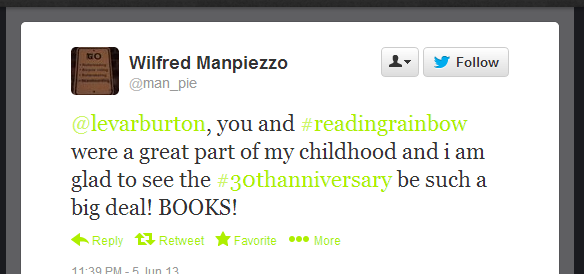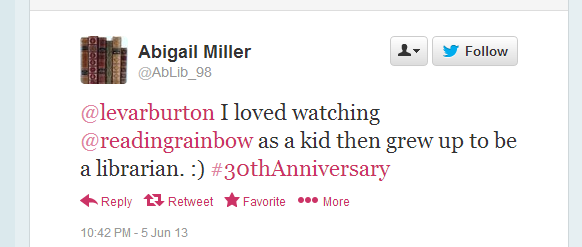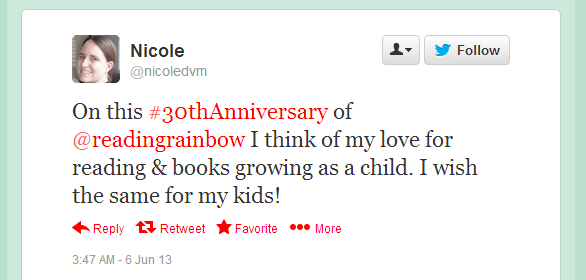 While the show ended in 2006, Reading Rainbow lives on digitally in app form at RRKidz.com.
"I come from a family of teachers, and when I was offered the opportunity to host Reading Rainbow in 1983, I recognized immediately the value in using the technology of the time to inspire kids to read," said Burton in a recent press release announcing a Kindle Fire version of the app. "Thirty years later, the RRKIDZ team and I remain passionate about speaking directly to parents and kids of this digital generation, offering them a new tool to spark that love of reading so necessary for success and fulfillment in life."
Among the most enduring memories for most Reading Rainbow fans is the show's theme song.
Unforgettable for those who grew up with the show or watched it with children.
And then there's the version with Jimmy Fallon channeling Jim Morrison of The Doors.
Equally unforgettable.