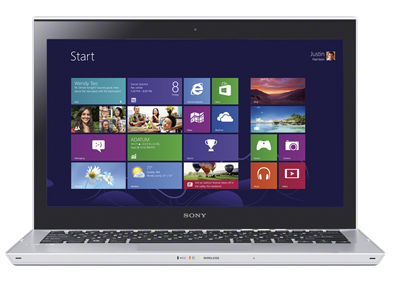 It's that time again. Every two years I go out and get a new laptop, as by then my old laptop starts to show the wear and tear of me banging on it for 24 or so months. This year, I really felt like changing it up. After maybe a decade of using industrial-strength laptops (usually Thinkpads), I went with a Toshiba Satellite last time. Now, I am ready to move to a whole different class of machine. I was never a Mac guy, so I have been looking at options in Windows 8 machines.
I originally thought I would buy a convertible laptop that could double as a Windows tablet as well. Something like the Lenovo Yoga or a Dell Ultrabook XPS, for instance. After looking at what was available at a decent price, though, I have decided they are not ready quite yet. I will explain more below.  Instead, I have started looking at touchscreen Ultrabooks to take advantage of the Windows 8 touch interface (is advantage even the right word?). The problem is I am having as much trouble finding one I like in this class as well.
I have to do something, as the tab and caps lock keys are falling out of my Toshiba, while the display goes from bright to dim on its own and the damn thing reboots randomly. Truth be told, I never did like the Toshiba. I find it hard to type on. The multi-touch touchpad constantly has me messing up the screen and losing my work. The machine was not officially listed as Windows 8 upgradeable. I am not a fan of it. The question is where do I go next?
In terms of the convertibles, my issue is that most of them selling for a thousand dollars or so are inadequate. They feature Intel Core i3 or i5 (I have decided I need a 5) or if you want to pay high-end an i7. Most of them come with 4GB of RAM. I just don't think that is enough memory. The problem is that it's impossible to add more memory to most of these models. You are talking soldering the motherboard. They are just not expandable. In terms of hard drives, most of the convertibles feature SSD drives. That is great. They are blazing fast! The problem in the sub-$1,000 class, they are usually just 128GB. Going to even 256 GB is a budget buster. That is fine for my tablet, but I will blow by that pretty quickly on my laptop I think. On top of this, they just don't look very durable. I can see myself twisting the screen right off and breaking them. 
Overall, for the convenience or cool factor of having a convertible, you are trading off by getting neither a great laptop nor a great tablet. To really get something good, you are looking closer to $2,000. For that money, I figure I can buy both a great laptop and a great tablet.
So I then turned my attention to getting a good touchscreen model. There are lots of choices. You can get monsters that have 15-inch screens and larger. They have the horsepower in terms of CPU and RAM. Many of them have traditional SATA drives of 500GB or better and some even have a hybrid with a 24GB to 30GB SSD drive that serves as a super cache. It lets you boot up quickly and speed up performance. I love that idea. The touchscreens are nice. Windows 8 really lends itself to the touchscreen. Most of these models have optical drives for discs, SD or other microdisk slots and USB 3.0 and HDMI slots. LAN and wireless included. All for anywhere from $650 to $900. That is a great price.
The problem is I don't feel like schlepping this brick around with me. To me, this is no different then what I have been carrying through security in airports for the last 10 years. I just don't want that.
Instead, I started looking at Ultrabooks. These are smaller devices with screens 13 inches or smaller. They don't have optical drives, so no CDs or discs. The higher-end models have only SSD drives, 128GB or 256GB. Again, this is a problem for me. Some of them, though, have SATA drives and hybrid SSD. That is what I am zeroing in on. The problem is many of them only come with 4GB of RAM and are not upgradeable. Another issue for me is some of them have smaller keys that are not backlit. I have fat fingers. I need full-size keys. I also type a lot in rooms without the light on and need my keyboard to light up. I want the touchscreen to be snappy and the glass has to feel strong (Gorilla Glass if possible).
Finding a box that has all of this has proven very difficult. I have spent a lot of time looking and still have not bought one.  I came very close today. I was at Tiger Direct  (formerly CompUSA) and saw a really sweet, brushed aluminum Sony VAIO Ultrabook. It has everything I was looking for except a backlit keyboard. It was on sale for $699. I was ready to pull the trigger and get my hands on my newest toy. I asked the salesmen to bring two to the sales register and I will take them both - one for me and one for my partner in the CISO Group. Don't you know it, they only had one left ;-(  I had them check other stores, online, everywhere. No good - this was the last machine they had. I couldn't get one for me and not my partner. So I left empty-handed.
If you have a suggestion for a good Ultrabook touchscreen that fits the above requirements let me know. In the meantime I will just keep looking.