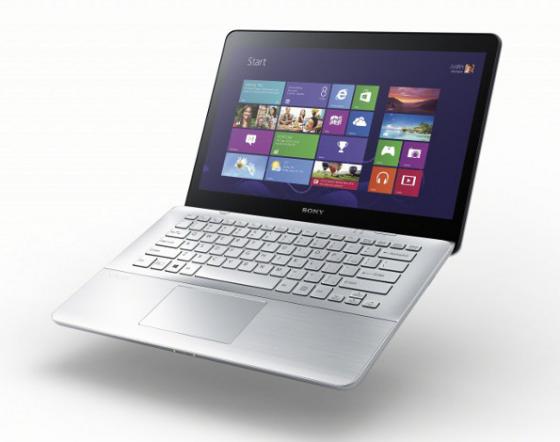 As I wrote last week I have been on a quest for a new laptop. I quickly realized that convertibles were not yet ready for primetime in my price range (sub $1,000), so instead I decided that I would get a touchscreen model to fully utilize the Windows 8 interface. Finding the perfect machine for me took a lot of shopping, reading and testing, but I am happy to report I have a new machine that will hopefully last me for the next 18 to 24 months. I bought a VAIO Fit 14. Why did I choose this one? Let me tell you.
My VAIO sports an i7 Intel Core CPU, it has 8GB of RAM, a 750GB (would you believe I wrote MB at first and then realized I was using 2001 specs) traditional hard drive and an 8GB SSD. It also has a DVD-RW drive and a slick 14-inch touchscreen. The screen sports a 1600x900 HD display with an Intel HD 4000 on-board graphics system. It also has USB 3.0 ports, HDMI, Ethernet, wireless and an SD card reader. The keyboard is the Mac-like chicklets with backlighting. The computer is housed in a slick brushed aluminum case. Taken in total, it is a really nice package.
While the size is not quite netbook or as small as some of the other Ultrabooks I looked at, it is much smaller than my previous Toshiba 15.6-inch screen model. The brushed aluminum gives it a rich, solid look. The keyboard is a pleasure to type on compared to my mushy Toshiba keyboard. 
Most of all, the touchscreen is a pleasure. I have used a tablet and my Samsung Galaxy S4 has a big screen, but using Windows 8 on a screen this size is really nice. The live tiles are really live. But just scrolling web pages with your finger is a hell of a lot easier than using a mouse or touchpad. I really like the ease of touchscreen and don't know if I will ever be able to go back to a mouse or touchpad. It is a game changer. Before you knock Windows 8, you really need to play with it on a touchscreen to appreciate it.
With the touchscreen I am using the tile interface much more than my desktop, compared to my previous Windows 8 machine. I also have downloaded several apps from the still underpopulated Windows app store.
This is the third time I have loaded a Windows 8 machine up with all of the software I use. By now I am pretty good at it. It only took me most of the first night I had the machine and it was fully loaded. Using Windows Office 365, which you can install on up to 5 machines, is great. I gave my old machine to my wife and leaving Office on there while installing it on my new machine still leaves me with three more installs. I didn't get any extra software on my laptop. Besides Windows 8 it came with some Sony software for movies and sound, but that was about it.
I bought my new laptop in a Sony store. Yes, that is right, the Sony store in the mall. I looked at all of the computer-type stores around town, looked online, but at the end of the day the Sony store had the best selection of Sony machines and the prices were the same as online and even cheaper than what I saw in the computer stores. In many of the computer stores they were showing older models that were a little cheaper, but the Sony store had the newest models at a good price. I was able to get mine for $999.99. Right at my $1,000 dollar limit.
I have been using it now for about four or five days. I love it. I know a lot of people knock Sony for not coming up with anything groundbreaking since the first Playstation or the Walkman before that, but Sony is the original Apple. Its products are designed well, the quality is evident throughout, and they just look nice.
I was hesitant because I remember when VAIOs were plagued with problems. But the reviews that I have seen recently seem to be very positive for the most part. At this point I would give the machine a high recommendation.
For me, though, the clincher was the reaction of other geeks. When they saw the machine, I got lots of oohs and aahhs. They liked using the touchscreen and really liked the look of my new computer. Already, two of my friends have said they are going out to get the same one.
I would have liked a total SSD drive, but I need more than the 128GB that comes in this class of machine. A friend of mine recently bought a laptop with twin 512GB SSD, but it set him back a pretty penny and it was not a touchscreen. For me, this hybrid of a traditional big HD with a small SSD works just fine.
So, now that I only paid a thousand dollars for my laptop, I have $500 set aside for my tablet. My HP Touchpad is beyond repair. I think the hard drive gave out or something. Anyway, I almost bought the new Sony tablet, but chickened out when I read a review that said it was slightly slower than some of the leading players in its class. So my quest for the next tablet goes on. But my search for the perfect laptop is over for now anyway.