"The average teacher explains complexity; the gifted teacher reveals simplicity."  
~Robert Brault
The "gifted" teacher.  It is always, for me, such a pleasure and a joy to meet one of these special and rare people.  You can tell when you meet one of these people, because everything about their teaching comes from the heart and has one and only one motivation: "the student learning."   It's not about them,  it is about you.  This just makes all the difference in the world!!  
These are the teachers that you look up in the CiscoLive catalog every year and sign up for whatever they are teaching!  These are the teachers that I seek out on CiscoLive365 web site to watch any and all video recordings they have done!   These are the teachers that give the true gift of "revealing simplicity" out of the most complex topics.  Given we work in the fast paced world of networking, where the only constant is constant change, we need these gifted teachers more than ever!
"Better than a thousand days of diligent study is one day with a great teacher."
- Japanese Proverb
What is a "Cisco Live Distinguished Speaker" and what does it mean to be inducted into the "Hall of Fame" for Cisco Live Distinguished Speakers?  
Cisco Live Distinguished Speaker - The Top 10%
A few years ago Cisco Live management had this great idea. Recognize the Cisco Live speakers that are the "best of the best."  Like a "People's Choice" recognition program for the top speakers at each CiscoLive around the world.
"The Cisco Live Distinguished Speaker is designed to recognize the top speakers as determined by our attendee audience. At each event the top 10% of speakers based on attendee scores are recognized as a Distinguished Speaker. The average score for these speakers is around a 4.85 per session. "  - http://www.ciscolive.com/global/speakers/#B
Distinguished Speaker Hall of Fame
Once you have earned Distinguished Speaker status at 5 seperate events, you get inducted into the "Distinguished Speaker Hall of Fame".  To me, this is really the highest honor a Cisco Live Speaker can attain.   These people are truly in the "gifted teacher" category.  
This past Cisco Live in Orlando, the Hall of Fame got it's first 5 inductees!
Shannon McFarland – Principal Engineer, Engineering
Carlos Pereira – Distinguished Systems Engineer, Sales
Rolando Salinas – Engineer, Technical Marketing
Troy Sherman – Technical Leader, Engineering
Aaron Woland – Engineer, Technical Marketing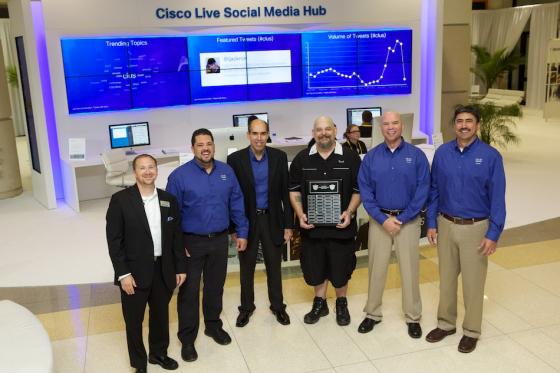 (From Left to Right: Global Content Manager: Matthew Stein, Hall of Fame Inductees: Aaron Woland, Carlos Pereira, Troy Sherman, Shannon McFarland, and Rolando Salinas)
Congratulations, and Thank you!
"The mediocre teacher tells. The good teacher explains. The superior teacher demonstrates. The great teacher inspires." 
~William Arthur Ward
Congratulations to all 5 of you!  You truly inspire me to be a better person and a better teacher.    Here is my "apple for the teacher".  Thanks!