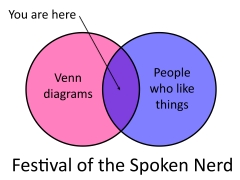 Yesterday I posted an item about nerd jokes (see "A nerd walks into a joke ...") and today I got a note from my old friend, Jim Sterne, pointing me to Festival of the Spoken Nerd "where sparkling wit meets fascinating science in a comedy night for the insatiably sci-curious."
Their material is epically funny (if you're a nerd) with moments of sheer genius. You can find a number of their videos on the group's YouTube channel. I particularly liked "Google Song":
... and "Calculating Pi with Real Pies":
When it comes to nerd humor your mileage may vary but not your value of pi.
Alas, the group only appears in the UK.