There once was a time when getting a physical copy of your payroll statement from your employer was easy because they'd give you a brand new one every week or two attached to an honest-to-goodness paper paycheck.
Today is not such a time, of course. And, while I won't quibble with the fact that forests have been saved as a result, there are instances when I long for the paper-wasting days of yore.
Like this morning when the website of the payroll service used hereabouts treated me like a total stranger just because I hadn't dropped by in, oh, let's say five years or so just because I have no idea when I last used this site. Long time; long, long time.
Now we've all been through this kind of thing more than once and I wouldn't even bother to make note of today's frustration were it not for the fact that I apparently came so close to getting what I wanted - one piece of paper - only instead to get what nobody wants: 20 minutes of password hell.
Not to mention the indignity of being told that I don't know the name of my high school mascot.
So permit me to vent, if you please.
Despite having no direct recollection, I did assume that I had an account registered, and that assumption proved true when my request to be reminded of my user ID was met with a prompt reply to the work email address I've had since back when they handed out paper checks.
A promising start, to be certain. But then I had the audacity to ask for a second reminder: my password from five or however many years ago it was.
This triggered a battery of authentication questions ranging from easy to ridiculously easy. Again, promising.
Last four digits of my social security number?
Accepted.
Month and day of birth?
Accepted.
Town in which I spent the majority of my youth?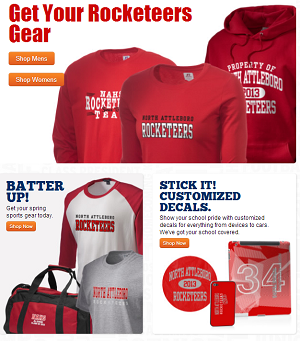 That would be North Attleboro, Mass., most famous these days for being home to an allegedly murderous New England Patriots football player.
Accepted.
I'm figuring that I'm home free.
Then comes: "Name of high school mascot?"
I assumed here they were looking for the nickname used by my high school's athletic teams, which in my case would be rocketeers, or more formally, the North Attleboro High School Rocketeers. I played basketball. I have a moth-eaten lettermen's jacket from the '70s and you can find jerseys and such as seen in the picture online today (left).
But, no, apparently the Internet and I are mistaken, according to the payroll website.
Rocketeer gets rejected, both singular and plural, uppercase and lowercase. I tried several times hoping against hope that maybe the website would realize that I might know better than it does, since I actually went to the school and it presumably did not.
No such luck.
So never mind that the website already knew that I knew my email address (they sent me my user ID remember), social security number, date of birth and childhood place of residence, I wasn't going to get my password because rocketeer is not the name by which the sports teams of North Attleboro High School are known. Or so says a payroll website.
And just to emphasize the point, they locked me out for trying too many times to answer a question I was quite certain I answered correctly the first time.
(Taking a breath.) With the help of HR I did eventually get the password and the piece of paper.
The 20 minutes I will never get back.   
Welcome regulars and passersby. Here are a few more recent buzzblog items. And, if you'd like to receive Buzzblog via e-mail newsletter, here's where to sign up. You can follow me on Twitter here and on Google+ here.